Get to Know: Sabrina Lopresti, Social Worker
What does your role entail?
The Social Workers at HRH provide a wide range of interventions and support to patients and families across all programs in the hospital. One of the Social Worker's main roles is to assess the psychosocial functioning of the patient and family to provide appropriate interventions.
Interventions range from counselling, advocacy, crisis intervention, support at the end of life, bereavement support, coping with chronic illness, addressing child welfare issues, identifying and arranging community resources.
Social Workers have expert knowledge of the social determinants of health and have a thorough understanding of the interplay between and the impact of the social determinants of one's physical and mental health. This is why Social Workers play a key role in discharge planning. They help patients and their families cope with change and ongoing stressors that accompany hospitalization, such as ageing, death, and physical and mental health issues.
What does an average day look like for you?
In my dual role as Professional Practice Lead for Social Work and as Clinical Social Worker in Inpatient Medicine, my role varies.
In my PPL for Social Work role, I provide leadership and support to the Social Work team to embrace the patient-centred care philosophy and meet the vision and values of HRH.
In my clinical Social Work role, I complete psychosocial assessments to gain a more holistic perspective and a better understanding of our patients and their families' needs. I provide them with emotional support throughout their journey in the hospital.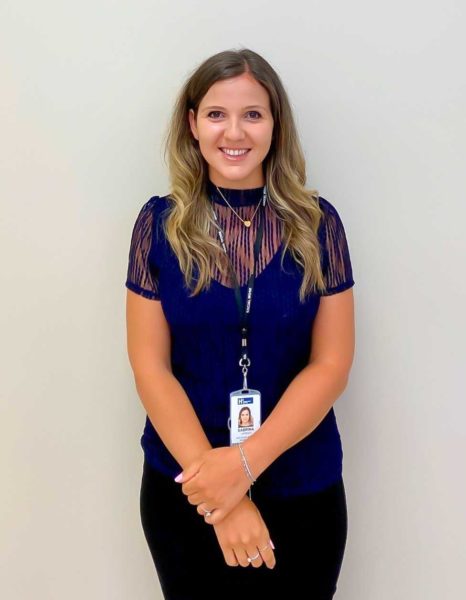 What do you like about working at HRH?
At HRH, Social Workers are given the opportunity to be active members of hospital-wide committees and initiatives. Social Workers at HRH also provide clinical placements to graduate students from a variety of universities. My team is my favourite part of working at HRH; they work with psychosocially complex patients and families and are always coming up with creative and innovative ways of addressing their needs.
How has your job changed as a result of COVID-19?
What I have noticed since the pandemic is there are certainly more complex patient needs. The pandemic has exacerbated issues for those individuals in our communities dealing with mental health concerns, addictions issues, poverty, homelessness, and violence.
In addition to this, with the COVID-19 Visitor Policy, patients have experienced further isolation. To support our patients during this time, we turned to technology, which has created new ways to interact and communicate with patients and their loved ones via IBT and teleconference.
What is a success story that you would like to share?
Since the start of this pandemic, social workers have been taking on new tasks, including:
Leading EDRT
Supporting patients and families throughout the changes to the visitor policies
Coordinating milestone mini-birthday celebrations for our patients
Supporting our colleagues, along with our own families and friends throughout these unprecedented times
Putting the needs of our patients and their loved ones first
Especially during this pandemic, Social Workers have shown their innate ability to provide support regardless of the situation.
What motivates you?
Maintaining motivation is becoming an increasing challenge among healthcare workers. To refresh my mind, body and soul, I keep motivated by leaving work at work. I have gone on numerous hikes, am exercising, eat clean, and listen to my body. This refreshes me when I come into work.
---