Maternal & Child Care
Click the link below to take a video tour, book prenatal classes and get to know our program.
Click here to see the Humber Advantage
MyHumberHealth
My Humber Health is a secure portal where you can access your health record. You can access your health information, such as lab work and Ultrasounds, even after you leave Humber River Hospital.
About the Maternal & Child Program: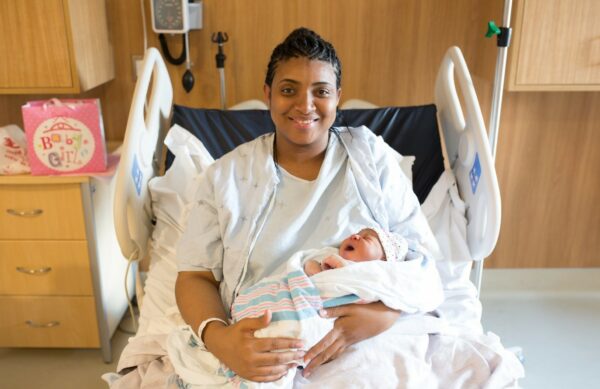 Humber River Hospital is proud to offer a family-centred environment with services and facilities that promote our patient and family-centred approach to care. Humber River Hospital's Maternal and Child Program is committed to providing excellent care for women, newborns, children and their families with an award-winning, multi-disciplinary team of dedicated care providers.
In all areas of service, patients and families are encouraged to be partners in care. Our private, single rooms encourage and allow parents and families to stay with their baby or child 24/7. We offer personalized plans of care to accommodate the cultural diversity of our community.
Please click here for our most updated visitor policy during COVID-19.
The Maternal and Child Program has a comprehensive interdisciplinary team including:
Obstetricians
High-Risk Pregnancy Specialists
Paediatricians
Family Physicians
Midwives
Endocrinologists
Dieticians
Social Workers
Registered Nurses
Anesthesiologists
Pharmacists
Lactation Consultants
Audiologists
Child Life Specialists
Occupational Therapists
Registered Respiratory Therapists
Neonatologists
Partnerships:
The Maternal Child Program has various partnerships to provide exceptional care. Some of our partnerships include:
KHA (Kids Health Alliance) – Kids Health Alliance is a network of partners committed to advancing excellence and expertise in pediatric care – leading to better outcomes and a high-quality, consistent and coordinated approach to health care that is centred around children, youth and their families. Kids Health Alliance will bring together partners in pediatric health care to achieve a better child, youth and family experience, improve health outcomes and generate greater value. Further information can be found by visiting http://www.kidshealthalliance.ca/en/
WEM (West End Midwives) – Provide care to clients throughout pregnancy, labour and birth and in the early weeks postpartum. Clients can choose to have their baby at home or at Humber River Hospital. You will be cared for by well-trained, compassionate care providers who respect the individual needs of birthing parents and their families. Further information can be found by visiting https://www.westendmidwives.ca/
Sick Kids General Surgery – In 2018, Humber River Hospital and The Hospital for Sick Children (SickKids) solidified a partnership allowing SickKids general surgeons to operate in Humber's state-of-the-art operating rooms. This agreement extends way beyond operating privileges: It is a full partnership. When a SickKids patient has surgery at Humber River Hospital, they have access to Humber's excellent Child Life Program.
Toronto Public Health – The Breastfeeding Clinic is open Monday – Friday 12:30 PM – 3:30 PM for one-on-one breastfeeding support. NOTE: This clinic is open to all patients requiring breastfeeding support.
Infant Hearing Program – this partnership with Toronto Public Health delivers various services to identify permanent hearing loss early and provide ongoing support from birth to age six. All babies born at Humber River Hospital are offered a free hearing screening before they leave the hospital. More information can be found by visiting https://infanthearingprogram.com/
Maternal-Fetal Medicine Clinic – This partnership with St. Michaels Hospital is to better serve patient families across the HRH community through services to patients experiencing maternal or fetal complications in their current pregnancy. Furthermore, the MFM clinic provides pre-pregnancy counselling for mothers with medical conditions or previous pregnancy complications.
Insception Lifebank and Victoria Angel cord blood banks – Cord blood stem cells can be used to treat over 80 diseases, and have been used in more than 40,000 transplants worldwide to date. Emerging research is expanding the list of diseases and conditions that may be treatable with cord blood. Humber River Hospital has partnered with Insception Lifebank to ensure expectant moms have all of the information they need to make an informed decision regarding storing their baby's umbilical cord blood stem cells. Patients have the opportunity to store their baby's umbilical cord blood for family use or donate it to be stored for anyone in need of a stem cell transplant. Further information on cord blood and tissue storage can be found by visiting insception.com/humberriver.
Services:
Prenatal Tour – To receive a virtual prenatal tour, please complete the form here.
Prenatal Classes –Humber River Hospital is pleased to partner with a leader in prenatal education, Markham Prenatal, to deliver a series of prenatal classes to support expectant parents and their support persons.In response to the ongoing COVID-19 pandemic, all prenatal classes will be offered in a virtual format, at no cost to registrants. Our prenatal classes have been developed with the goal of providing accurate, current and unbiased information that will provide parents and families with an opportunity to learn and prepare for birth and care of their newborn.All classes will be facilitated by Registered Nurses experienced in maternal and newborn care. To register please click here.
Post-partum wellness
Lactation Support
Midwifery Services – West End Midwives
Social Work
Dietician
Child Life Specialists
Adolescent Mental Health
Cord Blood
Audiology
Occupational Therapy