Maternal & Child Care
Click the link below to take a video tour, book prenatal classes and get to know our program.
Learn More
About the Maternal & Child Program: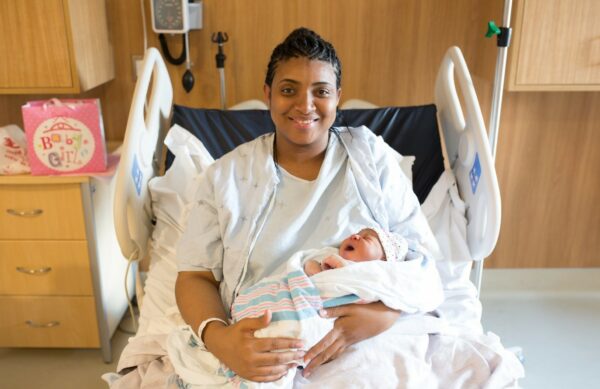 Humber River Hospital is proud to offer a family-centred environment with services and facilities that promote our patient and family-centred approach to care. Humber River Hospital's Maternal and Child Program is committed to providing excellent care for women, newborns, children and their families with an award-winning, multi-disciplinary team of dedicated care providers.
In all areas of service, patients and families are encouraged to be partners in care. Our private, single rooms encourage and allow parents and families to stay with their baby or child 24/7. We offer personalized plans of care to accommodate the cultural diversity of our community.
Please click here for our most updated visitor policy during COVID-19.
*NEW* POSTPARTUM SUPPORT GROUP
The Postpartum Support Group is a 12-week program that promotes and supports the mental and emotional wellness of women during the postpartum period. This video-based group session focuses on women supporting each other as they navigate through the challenges of early parenthood. Topics of discussions will include communication skills, parent-child relationships, and an overall understanding of the process of transition to parenting and motherhood.
Eligibility Criteria:
Within one year of birth
Age 19+
Delivery at Humber River Hospital
This program will be every Wednesday at 10:00-11:30am from May 4th, 2022-July 20th, 2022. 
If you are interested and meet the eligibility criteria above, please fill out the online referral form below. A healthcare provider will call you within seven business days.
Click the link below to fill out our online referral form.
ONLINE REFERRAL FORM
Prenatal Classes/Tour:
Prenatal Tour – To receive a virtual prenatal tour, please complete the form here.
Prenatal Classes –Humber River Hospital is pleased to partner with a leader in prenatal education, Markham Prenatal, to deliver a series of prenatal classes to support expectant parents and their support persons. In response to the ongoing COVID-19 pandemic, all prenatal classes will be offered in a virtual format, at no cost to registrants. Our prenatal classes have been developed with the goal of providing accurate, current and unbiased information that will provide parents and families with an opportunity to learn and prepare for birth and care of their newborn. All classes will be facilitated by Registered Nurses experienced in maternal and newborn care. To register please click here.
The Maternal and Child Program has a comprehensive interdisciplinary team including:
Obstetricians
High-Risk Pregnancy Specialists
Paediatricians
Family Physicians
Midwives
Endocrinologists
Dieticians
Social Workers
Registered Nurses
Anesthesiologists
Pharmacists
Lactation Consultants
Audiologists
Child Life Specialists
Occupational Therapists
Registered Respiratory Therapists
Neonatologists