Cancer Care (Haematology / Oncology)
Humber River Health's Cancer Care Program provides high-quality support for patients living with cancer. Our team is dedicated to providing the best care to the patients in our Cancer Care Program from consultation and diagnosis to treatment and supportive care.
Our Cancer Care Program consists of a team of experienced healthcare professionals who are dedicated to supporting our patients at diagnosis, during treatment, and in follow-up care. The following team members are: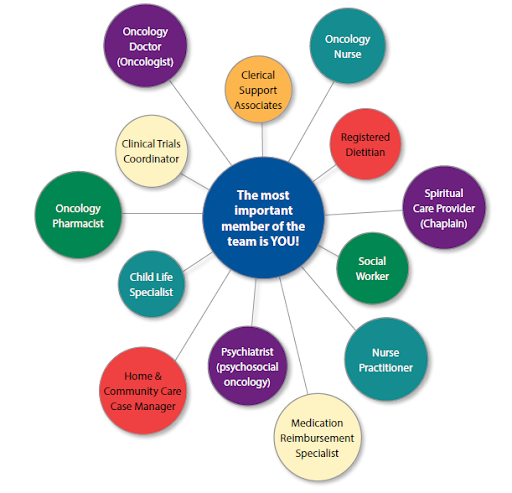 Humber River Health is proud to offer patients an integrated cancer care program. The integrated cancer care team consists of members from programs around the hospital, including:
Diagnostic Imaging

Endoscopy

General Medicine

Mental Health

Pharmacy

Palliative Care

Surgery

Clinical Trials
Benefits
Your family physician, surgeon or other specialists may make a referral to our Cancer Care Clinic to see which treatment is best for you. You can find more information about our Clinic in the 

"Welcome to the Cancer Care Clinic" booklet

.

Our team partners closely with other cancer centres for specialized services such as radiation, and acute leukemia management. You can find more information and resources in

"HRH Cancer Care Resources and Support For You".

We have a dedicated Patient and Family Advisory Council (PFAC) with advisors who have participated in local, regional and provincial committees. Council members serve in an advisory capacity, making recommendations on matters that impact patients and their families who are receiving cancer care services. This Council collaborates with the staff and leadership teams of the Cancer Care Program to advance a person-centred approach to the delivery of Cancer Care.
What to Expect
Our cancer program features:
A 30-bed inpatient unit for medical care and symptom management.

The unit includes a radiation isolation room for patients receiving treatment for thyroid cancer

A Cancer Care Clinic with 28 treatment spaces to provide specialized cancer care and systemic treatment, including Clinical Trials.

We offer follow-up care and symptom management
We have a Peer-to-Peer Support Program
For the safety of all our patients, see the important information about COVID-19 and Cancer Care Services at Humber River Health.
COVID-19 and Cancer: What You Need to Know. Click here..
Stay up-to-date with your COVID-19 vaccine and boosters. Click here
For more information about our Cancer Care Clinic, and general information about cancer treatments, go to the FAQ and Resources tab below.