Black Wellness and COVID-19
Black History Month provides the opportunity to celebrate our frontline workers, increase our understanding about the impact of COVID-19 on the African, Caribbean, and Black Community (ABC), and discuss coping and wellness strategies used in these communities.
We asked members of the ACB community among our staff about how they keep well, especially during the COVID-19 pandemic. We sat down with Gracious Mphinyane, a Registered Nurse who has been at Humber River Hospital for nearly 7 years.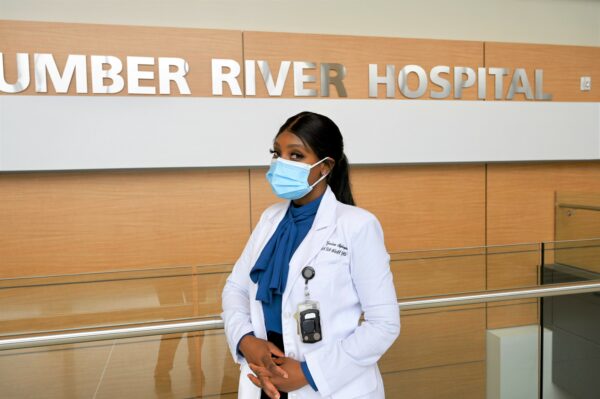 What is your role and why is it important to the hospital?
I work as a Geriatric Emergency Management (GEM) Specialist in the Emergency Department. I work with frail seniors who present with a myriad of geriatric syndromes such as falls, functional decline, cognitive impairment, abuse, etc. My role is pertinent to the hospital in that I work towards preventing the geriatric cascade because often our seniors are at increased risk of being admitted to the hospital. As a GEM Specialist, I ensure we avoid unnecessary admissions, and in safe and comprehensive discharge plans. In addition, I work collaboratively with members of the interdisciplinary team and community partners to ensure seniors receive the right care, at the right place, at the right time.
As a member of the ACB community, where both COVID-19 and racism have clashed instantaneously, what strategies would you recommend in order to come back from these profound happenings?
No doubt, the COVID-19 pandemic has exacerbated the vulnerabilities of marginalized races. An increasing body of research shows that marginalized members of the ACB community have experienced intergenerational trauma. Racism has now seeped into the health care system in that members of the ACB community encounter unjust health care treatment. Combating the status quo begins first by engaging in a needs analysis where policymakers can identify the very needs of the members of the ACB community. We need healthcare that is universally accessible to all, irrespective of immigration status or colour. We need culturally sensitive health care policies that allow the ACB communities the privilege to access services without fear of unjust treatment. We need oppression-free training for providers in the ACB community. Most importantly, these policies must integrate the lived experiences of members of the ACB community.
What do you do to keep well?
I keep well by nurturing healthy working relationships with my colleagues. No matter how tough the day may seem, we always find a reason to share some laughter. I mean, we spend so much time at work and it is very important to have synergist relations with coworkers and take care of each other. Secondly, I spend quality time with my family and I keep in contact with friends and relatives via Zoom. I love to study, so I have used a large chunk of time during the lock-down to keep up to date with the latest geriatric trends. Finally. I have become best friends with my treadmill!
---