The ACE Program at Humber River Health
Humber River Health's Acute Care for the Elderly (ACE) Program is an inpatient medical unit located on 12 East. The unit is designed to provide care for patients 65 years of age and older with an acute medical illness and one or more geriatric syndrome(s). ACE's goal is to enhance a patient's functional ability to ensure a safe return to their previous living arrangements in the community.
About ACE
ACE is comprised of geriatricians, in the most responsible provider role (MRP), as well as registered nurses, registered practical nurses, occupational therapists, physiotherapists, social workers, unit clerks, dieticians, pharmacists, and speech language pathologists. The ACE Program has 32 dedicated medicine beds to provide acute care of the elderly. The nursing staff and the unit leadership complete purposeful rounding with patients and families throughout the day to drive quality patient-provider relationships, ensure patient safety, and decrease the occurrence of preventable events.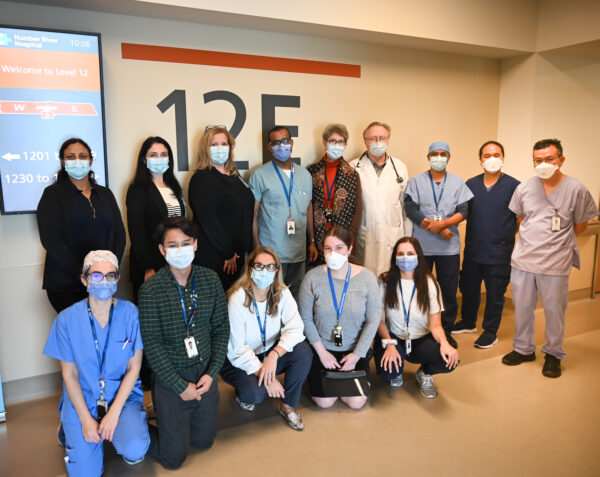 Upon Admission
Upon admission to the unit, a unique plan of care is developed and discussed with both the patient and their family.
During Stay
During the patient's stay, nurses collaborate with the allied health team members, Hospital and community support services coordinators, patients and their families to identify home care services and community resources in order to ensure a safe transition from the acute care setting.
Upon Discharge
Upon discharge, a comprehensive SMART discharge package is provided to patients and their families. The senior-friendly education package is provided to our community-dwelling seniors and supports best practices and self-management tools for older adults and their caregivers. The materials focus on seven clinical areas that support resilience, independence, and quality of life.
A post-discharge call centre (PDCC) also allows patients and families to provide feedback about their experience at Humber while admitted to 12 East. The program values patients' voices and opinions are they are critical for improvement.
Follow-Up
Patients will follow up in one of Humber's specialized ambulatory clinics. The goal of the follow-up appointment is to identify factors that can improve health, maximize independence and safety, and optimize the quality of life for the patients.
For ACE patients, the objective is a follow-up with the healthy living clinic, a specialized clinic providing a comprehensive assessment of the domains of aging. Services include comprehensive geriatric assessment of the domains of aging: cognition, function, mobility, mood, and complex medical and psychosocial factors.
Importance of Working With Seniors
Patients aged 65 and above account for 38 per cent of hospital admissions and 65 per cent of inpatient census at the Hospital. The North West Toronto community that Humber serves has the 2nd highest percentage of seniors who live alone. Caring for seniors is, therefore, an important aspect of our community and can be extremely rewarding and fulfilling. A majority of individuals have a plan as to how to retire and live in good health surrounded by friends and family. However, health-related conditions can derail these plans. The ACE team strives to enhance patients' functional abilities to ensure a safe return to their previous living arrangements in our community. The ACE team believes there are many reasons to work and support the senior population of our community. "We are able to make a difference in their lives, learn from their experiences, gain personal perspectives, and feel their immense appreciation for the care that we provide."
---