World Hospice and Palliative Care Day
World Hospice and Palliative Care Day is celebrated annually to recognize the need for palliative care in optimizing quality of life and supporting the physical, emotional and psychological well-beings of patients approaching end of life. Palliative care impacts patients and their families and requires a comprehensive healthcare plan unique to each individual. Dr. David Haile-Meskale, a palliative care physician at Humber River Health, understands the necessity of palliative care and provides insight on the benefits it provides to patients and their families.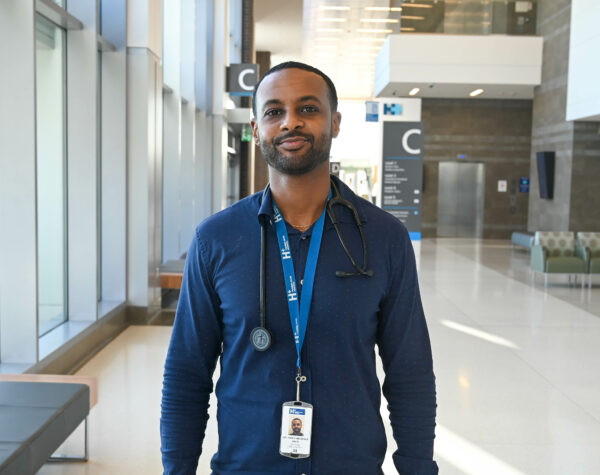 What is palliative care?
Palliative care is specialized medical care for people living with a serious and/or life-limiting illness. The goal is to provide symptom relief and improve the quality of life of patients.
What role do you play in providing palliative care to patients?
I do palliative care consultations, alongside my colleague, for patients admitted here at Humber. We review their entire clinical course, examine them, have goals of care discussions, and make treatment decisions alongside patients and their families.
How is palliative care beneficial to patients and their families?
The end of life process can be very challenging for patients and their families. It is important that they have access to information about their disease so they can make informed decisions on how to govern their care. Just as importantly, we can provide specialized care by utilizing medications that help alleviate suffering. We also assist with discharge planning – finding the ideal living situation based on the wishes of the patients and their families.
What should patients and families know and expect about palliative care?
The philosophy of palliative care is all about maximizing a person's quality of life and allowing them to take control over their future. We do this by supporting patients and families at a difficult time. They can expect effective symptom control, psychological and spiritual support, and compassionate care. Various healthcare professionals including physicians, nurses, social workers, speech-language pathologists and chaplains, best administer palliative care.
What palliative services are offered at Humber?
Our program is currently expanding. Currently, my colleague Dr. Rubenzahl and I follow a large group of patients throughout our Hospital who have palliative care needs. After our initial consultation, we continue to follow their progress and provide support. We also work closely with various healthcare professionals both at Humber and in the community.
Where can families look for more information about hospices and palliative care?
Excellent starting points for finding more information include: Hospice Palliative Care Ontario, the Ontario Palliative Care Network, and the Ontario Ministry of Health and Long-Term Care
---