Black History Month 2023 with Joan Myers-Harrison
During Black History Month, communities come together to celebrate, educate and better understand the traditions, achievements, struggles, and sacrifices of the Black Community. Joan Myers-Harrison, a Resource Nurse in the Cancer Care Clinic at Humber River Hospital, provided her opinions on the importance of Black History and ways in which others can celebrate and commemorate the Black Community.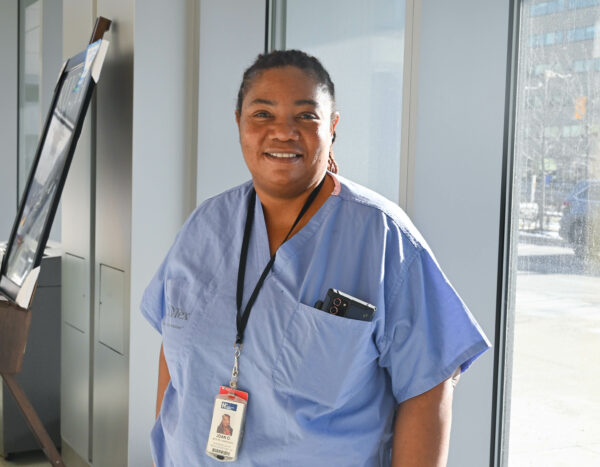 Tell us about your role.
I have been working in the Oncology Department at Humber since 2002. I truly believe this is where my passion lies. As a Resource Nurse, I have many responsibilities. The most important of these responsibilities include ensuring the safety of our patients and that they have a positive experience during their time at Humber. In regard to our staff, I play a large role in working to provide a safe and supportive environment for our team.
What does Black History mean to you?
Besides my love for my colour and being proud to be Black, Black History Month is a time when I reflect on our Black Freedom Fighters and Foreparents who have worked for justice and equality. They have fought to ensure the world becomes a better place for the Black Community to learn, practice, and fit under society's "umbrella." Black innovators before me have worked hard and tirelessly to set the pace for a better life for me and other Black individuals.
What obstacles have you had to overcome in your role?
I enjoy mentoring and believe it is important. As a nurse, I believe mentoring new nurses is how we ensure we continuously provide safe healthcare to patients. From working in many organizations, I have found many Black Leaders who do not care to mentor and be role models for others. I am happy to work at Humber, a diverse organization made up of teams that are compassionate, professional, and respect one another.
Nonetheless, there have been times when no matter how hard I work, patients have not acknowledged my efforts in the same way as a nurse of Caucasian descent. However, instead of dwelling on it, it has only encouraged me to work harder to serve my patients. I feel joy when my patients are thankful for my care and have a positive experience. It is the same when I hear staff tell me that I have made them feel supported — things like these make my day.
This year, the theme for Black History Month is Black Resistance. How do you demonstrate resistance and power?
In my opinion, showing power is best done through teaching. When I teach, I ensure I am teaching at different levels so everyone can learn and understand, such as teaching patients how to promote well-being and stay healthy on their cancer journey. Showing power is about mentoring staff and knowing how to help someone struggling or a nurse who needs my help. I work to rise above the chaos, encouraging others to stretch, dance and have a good start to their day. I ensure my office door is always open, a safe space for my team to talk and unwind. To show power and resistance, we have to understand how to uplift our colleagues and ourselves. If I uplift and mentor others, then they will uplift and mentor someone else, igniting a chain reaction. This is how we become equal and promote justice in our communities.
How should our communities commemorate Black History Month?
Our communities should commemorate the month by, not only shining light on the Black Community, but on people of all races and classes in marginalized communities. It is important that awareness and education begin at home, such as through educating our own children. If our children learn to respect themselves and their parents, they will respect their teachers, peers, and so on. By teaching them that respect is necessary and compassion is necessary, then we will be able to uplift our communities and ourselves.
---