1000 Surgeries Later – The Patient POV
On 3 April 2023, the ROSA surgical robot completed its 1000th case at Humber River Health. ROSA is the first orthopaedic surgery robot in Ontario. Through donor support, Humber was the first Hospital to acquire ROSA, as Dr. Sebastian Rodriguez-Elizalde performed the first surgery on 3 October 2020.
By implementing innovation during the COVID-19 pandemic, ROSA has assisted Humber in challenging the status quo to support new ways of addressing surgical backlogs and improving patient outcomes throughout. Humber has since acquired a second ROSA and has six trained surgeons using the technology.
ROSA's 1000th surgery was performed by Dr.Rodriguez- Elizalde on patient Claude Vezina.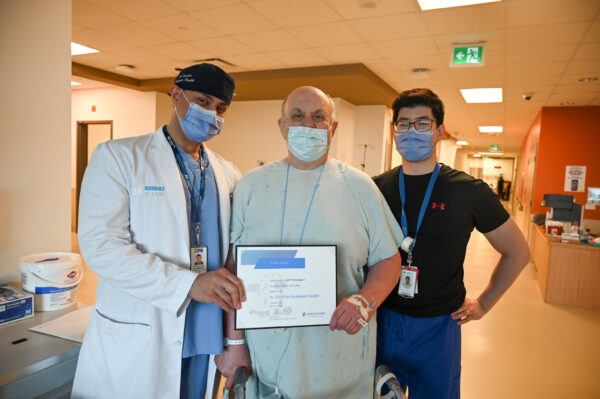 Before his orthopaedic surgery, Claude experienced limited ambulation due to pain and swelling. As a retiree, Claude enjoys spending time hunting, fishing, and working on his property but lacked the necessary mobility because of chronic pain.
Claude had first heard about ROSA's orthopaedic surgery through a friend who underwent hip surgery by Dr. Rodriguez- Elizalde. Through further research, he became impressed by what the robotic technology could offer; same-day surgery, precise anatomical analysis of knee joints, addresses patient-specific needs, and improved post-operative care.
Performed by Dr. Rodriguez- Elizalde and a team of Humber's outstanding surgical staff, the ROSA 1000th case was a prosperous milestone and Claude's surgery was a success. "I am already ambulating and feel no pain at this time," explained Claude less than four hours after his surgery. "I am feeling encouraged to go out and continue my healing."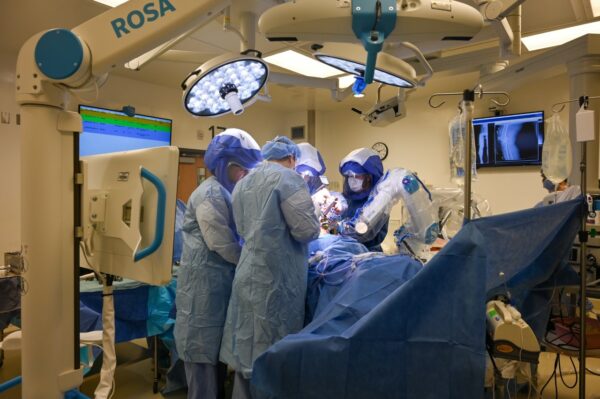 Due to his positive experience, Claude believes that Humber is a leading institution for care in Ontario. "[Humber] was well conceived and laid out. The human contact was good at all levels. Everyone communicated very well and explained everything to me thoroughly. It was 100% a good experience!"
Claude expressed his gratitude to the Humber team and the need for more surgical technology in our communities. According to Claude, as the population ages and individuals live longer, mobility of hips and knees has become increasingly important, creating a need for more access to technology of this nature.
"I feel that if 999 people have gone before me, I am encouraged that I came here and made the right choice. I am not the first case, but I am one of many, and I know that Humber will have many more. I am very happy to have made this decision."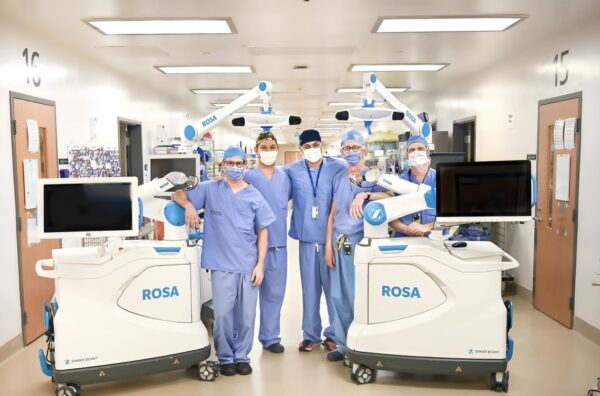 Visit the link below to watch an interview with Dr. Rodriguez- Elizalde and to learn more about ROSA: https://www.youtube.com/watch?v=7qOg4KN5xuI
---