Coronavirus (COVID-19)
Information for Patients
HRH is adhering to best practice guidelines set by the Public Health Agency of Canada and the Ontario Ministry of Health and Long-Term Care for the assessment and management of COVID-19.
If you have an upcoming Humber River appointment, please review this important information before coming to the hospital.
Please do not come to the hospital for a clinic appointment, test or other procedure if you have any of the following symptoms:
Fever

Cough

Shortness of breath

Sore Throat
If you have one or more of these symptoms, call your clinic.  Talk to the staff about:
Whether you need to come to the hospital

Rescheduling your appointment

Any concerns you have with delays in your care
"What can I expect when I come to the hospital?"
Starting March 16, 2020, we are screening all patients and visitors before they come into the hospital buildings. There may be line-ups. Please come earlier than you normally do. This will allow enough time for screening questions and to be at your appointment on time.
When you come to the hospital, staff will ask you why you are at the hospital. They will also ask if you have any of the above symptoms.
What if I have a symptom when I come to the hospital?
Patients who have any of these symptoms will be asked to wear a mask and use hand sanitizer. When you arrive at your appointment further screening and questions will be asked,  where we will talk about options for your care.
Will my appointments be canceled?
When people come together, the risk of infection with COVID-19 increases.
Appointments will continue for now. Changes may be required for nonessential appointments in the future depending on the impact of COVID-19. If you have any questions please speak to your physician's office.
What if I have an upcoming surgery?
Surgeries will continue as planned for now. Surgeries that are needed to save a life will go ahead, but other surgeries may be canceled in the near future depending on the impact of COVID -19. If you have any questions about an upcoming surgery, call your surgeon's office to speak with a member of the care team.
Visitor Restrictions
Visitors who feel unwell (fever, cough, shortness of breath, sore throat): please do not visit at this time.
We are pleased to report that visiting will commence at Humber River Hospital on June 24, 2020 for essential visitors.
The return of visits will be different from before the COVID-19 pandemic period.  There will NOT BE a resumption of OPEN visiting at this time. The number of visitors is being restricted for the safety of all patients and staff, as COVID-19 continues to be present in the community.
This is what you need to know about the visits at this stage of the Pandemic:
Visits will have to be scheduled with your care teams based on the frequency recommended by the Toronto Region Hospitals guidance.
Each patient can only have 1 (one) visitor for an hour on their scheduled day.
The visit will be restricted to the patient's room only at this time.
All visitors must enter through the North and South entrances of the hospital.
Visiting hours are between 1:00 pm to 7:00 pm.
Each patient may have an identified designated visitor and alternate visitor.  We will be contacting you to determine who will be the designated visitor and/or the alternate visitor. In addition, the social worker will be contacting you to establish your visiting schedule and time.
The visitor will be screened at each visit to ensure they have no signs and symptoms of COVID-19 or any other communicable illness. Visitors with communicable illness symptoms will not be allowed to visit. The visitor must pass the screening assessment with each visit.
Visitors will be required to clean your hands and wear a mask. The mask or face covering must be clean and cover both nose and mouth.  If visitors do not have a mask or face covering, we will provide a mask at the entrance.
Visitors must clean hands with the hand sanitizer when entering the hospital and when entering and exiting the patient's room
Must maintain 2 meters or 6 feet between the patients and the visitor at all times
We look forward to seeing you again.  Thank you in advance for your support, understanding and patience as we resume visiting while preventing virus spread.
Frequently Asked Questions for Returning Visitors
Wearing a Face Covering in the Hospital
Wearing a Face Covering in the Hospital
To prevent the spread of COVID-19 and keep everyone at the hospital safe, we are asking all patients, family caregivers, and visitors to wear a mask or face covering while in the hospital. As you enter the hospital, you will meet with the screening staff. If you do not have your own mask or face covering, or the staff determines that the mask you are wearing is not effective, we will hand you a mask to wear. Please clean your hands with hand sanitizer before and after putting your mask on. If you have a child, 6 years of age or older, coming in for a test, clinic visit, or emergency, we will also give them a mask to wear.
Please read our full policy on patients, family caregivers and visitors wearing a mask in the hospital.
Door Screening
Door Screening:
We continue to screen all patients and visitors who are the exception, as per above guidelines.
When you come to the hospital, security will ask you why you are at the hospital. They will also ask if you have any of the above symptoms. Visitors will be turned away if they have any symptoms during the screening process. We continue to monitor the situation closely to make decisions about visitor access.
Help prevent the spread of respiratory viruses to others by:
Washing your hands often with soap and water for at least 20 seconds. Use an alcohol-based sanitizer (greater than 60% alcohol), if soap and water are not available.
Avoid contact with others until your symptoms subside and/or you have been evaluated by a physician.
Cover your mouth and nose if you cough and/or sneeze into your sleeve.
Avoid travel while sick.
Entryway Restrictions – Wilson Site
Entryway Restrictions – Wilson Site
Visitors and patients will only be able to access our Wilson Site using the below entrances:
Portal A & D – 7 a.m. – 3 p.m. (clinic patients only)
South Central – 24/7
Emergency Department – 24/7 (ER patients only)
North Central – 24/7
Dialysis – 7 p.m. – 11 p.m. (Dialysis patients only)
Humber River Hospital (HRH) is actively monitoring the status of Coronavirus (COVID-19) in Canada.
Please visit Health Canada for the latest COVID information and travel advisories.
Resuming Clinical Activities
Humber River Hospital has received approval to gradually resume non-urgent and elective surgeries and procedures as of June 3rd.
To be clear, not all procedures will begin on June 3rd. It will take time to reschedule services.
All of this hinges on a number of factors including PPE, bed occupancy, availability of drugs and supplies, ability to maintain safe social distancing, and our human resource capacity.
Important: HRH will be contacting patients directly to reschedule their procedures.
Going forward, should there be a sudden surge of COVID-19 cases, HRH needs to be able to readily access 10% of its beds. This is why a cautious and gradual approach to the initial resumption is required to closely monitor any impacts to our operations. This will roll out in phases over the coming weeks.
It's important to note that the hospital may need to stay in a specific phase for several weeks at a time, or longer, or return to an earlier phase, depending on occupancy, PPE and drug supply status.
HRH will continue to monitor and reassess this plan on an ongoing basis, especially if there is a sudden surge in COVD-19 cases in the community.
Surgery at HRH
If you are having surgery at HRH
We have set up the Surgical Call Centre in order to help facilitate COVID 19 testing pre-op and pre-procedurally.  Here is the contact information for
Surgical Call Centre contact information:
(416) 242 – 1000 ext. 83006 or PreopTesting@hrh.ca
COVID-19 Assessment Centre
Humber River Hospital COVID-19 Assessment Centre:
Location: Reactivation Care Centre (RCC) – Finch site (2111 Finch Avenue West Toronto, Ontario M3N 1N1)
Hours: Monday to Friday – 10 a.m. to 6 p.m. / Saturday to Sunday – 9 a.m. to 4 p.m.
Patients who are being assessed for COVID-19 are directed to use the West Entrance only. All other patients and visitors will use a separate entrance.
As of May 24 2020, you can get a test if:

you are worried you may have COVID-19
you are worried you have been exposed to someone with COVID-19
you are at risk of exposure to COVID-19 through your employment
you are experiencing symptoms of COVID-19

You do not need a referral to get a test
You do not need a health card to get a test
Anyone who wants a test can get a test
You do not need to book an appointment at this centre to get a test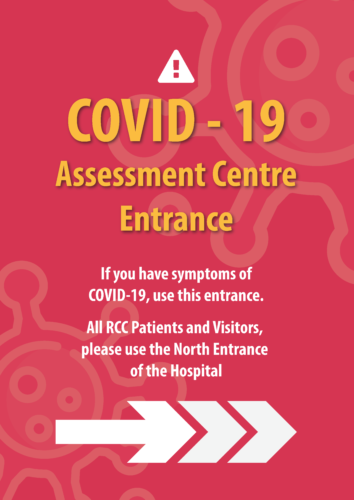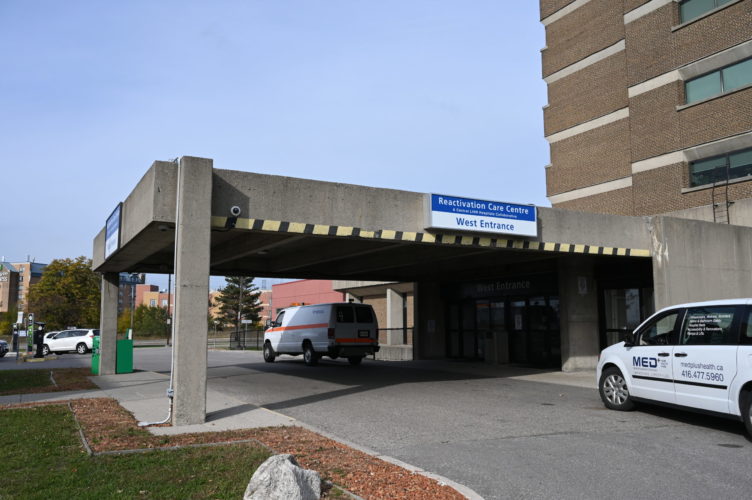 Frequently Asked Questions about COVID-19
What is Coronavirus?
Coronaviruses are a large family of viruses. Some cause illness in people and others cause illness in animals. Human coronaviruses are common and are typically associated with mild illnesses, similar to the common cold.
COVID-19 is a new disease that has not been previously identified in humans.
What are the symptoms of COVID-19?
Those who are infected with COVID-19 not show many symptoms and can be similar to a cold or flu. Symptoms of COVID-19 may take up to 14 days to appear after exposure.
Symptoms may include:
fever
cough
muscle aches and tiredness
difficulty breathing
pneumonia in both lungs
Less commonly: sore throat, headache and diarrhea have been reported.
What precautions can I take to prevent getting Coronavirus?
Currently, there is no vaccine to protect against COVID-19. The best way to prevent infection is to avoid being exposed to this virus. Prevention measures include:
Hand Hygiene is extremely important: Wash your hands often with soap and water for at least 15 seconds. If soap and water are not available, use an alcohol-based hand sanitizer (greater than 60% alcohol)
Avoid touching your eyes, nose, and mouth with unwashed hands
Avoid close contact with people who are ill
Stay home when you are ill
Cover your cough or sneeze with a tissue, then immediately throw the tissue in the garbage and wash your hands
If you don't have a tissue, sneeze or cough into your sleeve or arm
Clean and disinfect frequently touched objects and surfaces
Is wearing a mask effective?
We mask at HRH. It is required that you wear a mask indoors at HRH when you know physical distancing is not possible and in common areas.
The use of masks/face coverings is non-invasive, inexpensive and it can save lives. Masks may also serve as a visual reminder to everyone that we need to be vigilant and maintain physical distance.
Effective July 7, wearing a mask or face covering will be required in indoor public spaces under the Mandatory Mask or Face Covering Bylaw of Toronto.
Travel-Related Frequently Asked Questions
I recently travelled outside of Canada to an affected area and have developed symptoms of COVID-19.  What should I do?
Contact their local public health unit  within 24 hours of arriving in Canada
Stay at home and avoid close contact with others, including those in their home,  for a total of 14 days from the date they left Hubei province or Iran
Contact Telehealth Ontario at 1-866-797-0000 or their local public health unit  or call their primary care provider's office if they experience symptoms of the 2019 novel coronavirus
Call ahead prior to visiting any health care provider and let them know about travel history and symptoms (e.g., fever, cough, difficulty breathing) so that they can make special arrangements to see you quickly, provide testing, and ensure that they use proper infection control measures
Travellers who have returned from areas under a travel health advisory  for COVID-19:
Monitor themselves for symptoms of the 2019 novel coronavirus for 14 days after leaving the affected area
Contact Telehealth Ontario at 1-866-797-0000 or their local public health unit  or call their primary care provider's office if they experience symptoms of the 2019 novel coronavirus
Call ahead prior to visiting any healthcare provider and let them know about travel history and symptoms (e.g., fever, cough, difficulty breathing) so that they can make special arrangements to see you quickly, provide testing, and ensure that they use proper infection control measures
Information, Resources and Education on COVID-19
Information and Resources on COVID-19 are available on the following websites:
Education About COVID-19: