Community Telephone & Webinar Townhall
Your Hospital, Your Healthcare at Humber River Hospital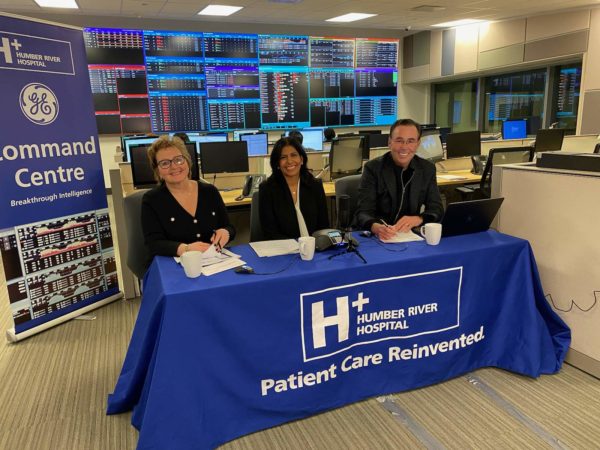 Humber River Hospital (HRH) hosted its first  Community Town Hall by telephone and live web stream on January 21, 2020.  Barbara Collins, President and CEO of HRH and Dr. Tasleem Nimjee, ER Doctor and Director of Medical Innovation & Transformation were joined by moderator and Q107 radio personality, John Derringer to discuss important health-related topics and to answer questions from callers about the Hospital's programs and services.
An archived version of the full broadcast can be viewed below.
Humber River Hospital called a randomly-selected list of 20,000 households within our community to invite them to participate in the Town Hall.
Questions and comments from members of our community included the following topic areas: Access to Care and Patient Flow; Patient and Provider Experiences; Quality/Safety of Healthcare; Health Outcomes for Coronavirus; Diversity and Inclusion; Care in the Community; Seniors' Care; Digital Technology and Access to Health Information, among others.
Town Hall Themes
Addressing Emergency Department Wait Times and Eliminating Hallway Medicine
High Reliability Healthcare and Patient Safety
Focus on Patient-Centred Care & Enriching the Patient Experience
Our Doctors, Specialists & Clinics
Virtual Care
Polling our Audience
Our community was invited to participate in four online polls during the live Town Hall discussion.  Results are available below.
What age demographic are you in?
18-30 years – 7%
31-49 years – 8%
50-64 years – 35%
65+ years   – 50%
How do you want to hear from us?
HRH website – 14%
Flyers or ads in local papers – 5%
The Hospital's social media channels – 5%
Direct mail to your home – 16%
Email newsletter – 29%
Television or radio ads – 28%
Posters or electronic displays while visiting the Hospital – 3%
Based on what you know about Humber River Hospital and what you have learned tonight, are we focused on the right things?
Yes – 73%
No – 6%
Not Sure – 21%
Virtual care provides an opportunity to see a doctor or specialist virtually or online from your home.  If this service were offered, would you use it?
Yes – 60%
No – 14%
Not Sure – 26%
Thank you for joining us for a Community Town Hall conversation! View the full broadcast below.
---