Get to Know: Dr. Erica Burry, Paediatric Endocrinologist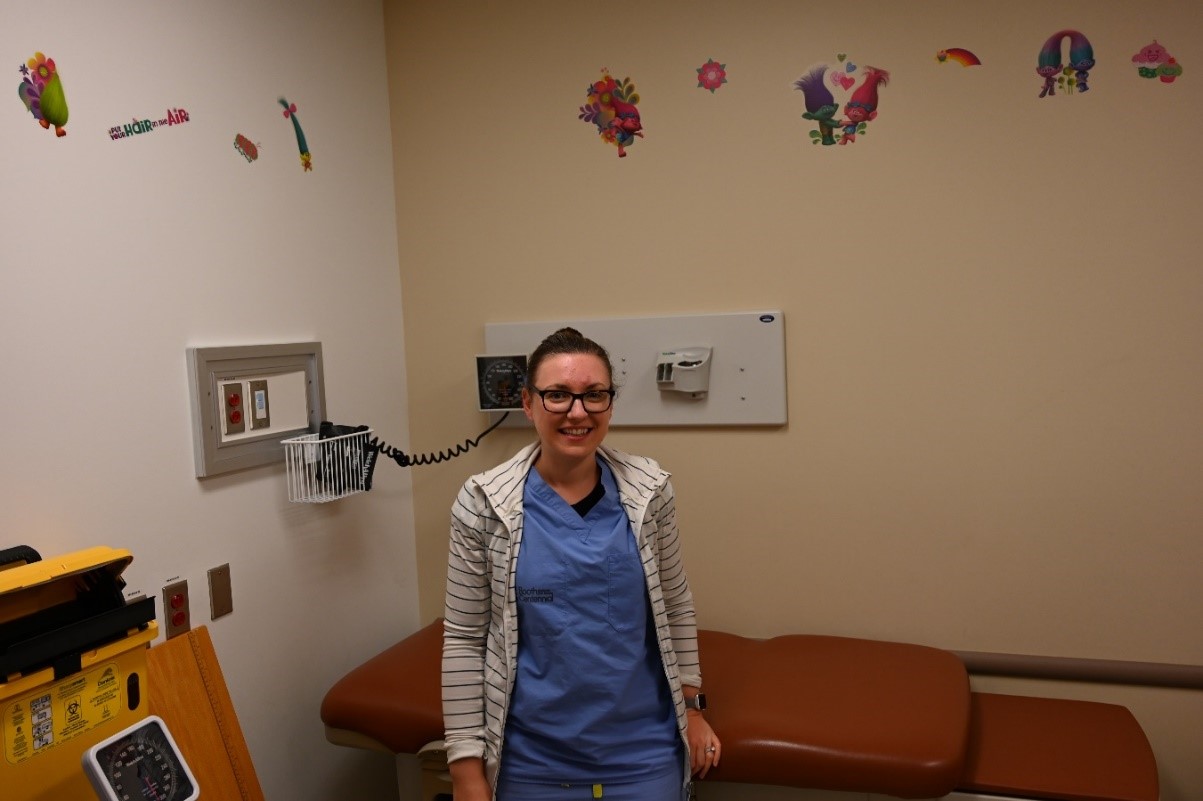 What does your role entail?
I am the paediatric endocrinologist in the hospital. Paediatric endocrinology is the field of hormones, so I see kids for growth concerns, puberty concerns, thyroid and different hormone problems, and low blood sugar issues. I have a couple of roles within the hospital. In my paediatric endocrine clinic, I see patients with the previously mentioned worries and I also work with the dietitians in the Nutrition Clinic, where I see kids with obesity or kids who are underweight. A smaller part of my role is seeing babies in the Neonatal Intensive Care Unit (NICU), usually for low blood sugar but also thyroid or other endocrine questions.
What does an average day look like for you?
If I have anybody to see in the NICU, I will go there first to see the babies. There, I will chat with the families, nurses and the paediatricians. Then, I will generally come back to the clinic. In my paediatric endocrine clinic, I will see a mix of all of those different concerns; for example, I might see someone who has concerns about their growth and then the next patient might be a hypothyroidism patient. Hence, it is pretty varied throughout the day. When it's my Paediatric Nutrition clinic, I work together with the dieticians, and we both see our patients with obesity or underweight. Working as a team allows us to provide more comprehensive care.
What do you like about working at HRH?
I joined the HRH team in 2017. Before that, I did my training at SickKids, and one of the nice things about being here at Humber is that I am still providing the same type of care, but families can get that care close to home. When I finished my fellowship at SickKids, some of my patients came with me when I moved to Humber because this was a closer clinic to them than having to go to SickKids. Those who need bloodwork or x-rays as part of their visit can often do them on-site before they leave, which helps to make their visit more streamlined and convenient, and I can look at the x-ray pictures myself and get the bloodwork results quickly since it's all in our computer system.
It has also been great working with the team here. In our clinic, we have a number of other pediatric subspecialists, and it's so helpful to have the ability to discuss mutual patients or get their opinions. I've also enjoyed learning from and working with the paediatricians and the NICU team as well.
How has your job changed as a result of COVID-19?
As a result of COVID-19, we have switched to primarily virtual visits. I see some in-person patients, but the majority of my clinic is now done virtually. I will see families either by video or telephone, which has provided an excellent opportunity to ensure that continuity of care at a time where they cannot come into the hospital as readily. It has been a new challenge, so we have had to find new ways of making that work. For example, sometimes, my families will measure their child's height at home before a visit or do bloodwork at outside labs, and then we review the results by telephone at the visit.
Although there have been changes to how we have structured the clinic, it has been working well to keep connected with families, and families have given feedback that they've found it helpful as well. Sometimes urgent issues come up that need an in-person visit. I am still seeing some kids in person, especially since the physical exam is crucial in some cases. So we have stayed available for patients who have urgent issues to come in person as well.
What is a success story that you would like to share?
For children who have hypothyroidism (an underactive thyroid gland), sometimes the only symptom they have is that they are not growing well from a height point of view. I have had a couple of patients like that who have had slow growth, and as part of the investigations for their growth concerns, they were diagnosed with hypothyroidism. Once we treated the hypothyroidism, their growth rate increased back to normal. Those have been satisfying cases where I have been able to help them from a thyroid point of view and a growth perspective.
The newborn screening test is done for all newborn babies; this tests babies for congenital hypothyroidism, an underactive thyroid in newborn babies. The newborn screen allows us to identify those babies early, and those who need it can start treatment within a few days of being born. Since the thyroid hormone is vital for growth and development, treating this condition and knowing about it early on, helps to optimize growth and development during those first few years where they are growing and developing so quickly.
What motivates you?
Something that is great about paediatric endocrinology is that I often follow kids for many years and, in some cases, from birth until they turn 18. I have been able to develop relationships with patients and families over the years. This is one of the main things that drew me to pediatric endocrinology in the first place.
---