October 4-8 is Health Information Professionals (HIP) Week in Canada. This week we recognize the Health Information Professionals who work to develop efficient and digitized ways to improve the healthcare dynamic. Director of Health Information and Privacy at Humber River Hospital, Jake Harmina, has worked as a HIP for 22 years. This week, he shares insight into the contributions of Health Information Professionals in planning for a more digitally based future for the hospital.
What are the primary focuses of your department?
My department ensures the protection of all records within the hospital. Data quality is a huge part of our department. To meet benchmarks and receive funding for the hospital, it is important to ensure that all data is accurate before submitting it to the Ministry or the Canadian Institute for Health Information (CIHI). I also act somewhat like a police officer. We have to make sure that we comply with laws regarding privacy, confidentiality, the Mental Health Act, among others. We are constantly training and educating the department on this area because it is important to understand what you can and cannot release. Overall, our department acts as a support service, while making sure the integrity of records and the protection of information is secure.
Could you describe how the Health Information Systems Department has promoted Humber River Hospital's digital vision via automation and integration of information systems?
We ultimately support the digital vision of the hospital by working towards a paperless environment. Even just five years ago, everything used to be paper. We are now on our way to integrating systems that will eliminate paper to go digital through the five different areas in our department.
What are the five areas in the department?
Records Management
This area is responsible for taking paper-based records and turning them into electronic-based medical records (EMRs). This creates one central area for everything, such as our Meditech system. Everything must be inputted into Meditech because it is where Physicians, Nurses, and Staff receive all their patient information.
Coding
The coding area is made up of about 20 people who read all the patient visits and abstract data that we have been mandated to submit. Coders are always being trained and audited to ensure nothing is missed. The coder's data is studied by analysts and receives support from the Analytics and Business Insight team. This data is not just important for the hospital to receive funding, but is also used internally by the administration to plan for the future.
Registration
This area looks at the data quality from registrations. This is where we collect information regarding the patient's age, demographics, reasons for coming to the hospital, etc. Managers receive a report with this information every month and are trained to ensure certain guidelines and standards are enforced.
Release and Privacy
This area is the gateway to getting information from the hospital. This sector has certain rules that must be followed to ensure that the external sources requesting information are entitled to receive it. The privacy team has proactive auditing to manage complaints and ensure no one is "snooping." They coordinate all of their responses with what can and cannot be released to others.
Transcription
The transcription area aims to promote front-end dictation, where Physicians are recorded and immediately transcribed through the system. Nonetheless, there are still some doctors who prefer to use back-end dictation, which is when another individual transcribes on behalf of the Physician.
What advancements have you seen in regards to patient records, technology, and analytics over your career? 
Well, when I started in the 90s, everything was paper and only basic information was covered. I have seen it all, in terms of advancements with computers, electronic records, interfaces that communicate with each other, etc. We are currently working on a pilot project for coders. Instead of having the coders search through and read reports manually, this system reads, digests, and codes the information in minutes. Ultimately, all the advancements turn everything into electronic versions. It is the way of the future for records and health care.
Since it is HIP Week, can you elaborate on why Health Information Professionals are so important to hospitals like Humber River? 
Information is everything. Everything that happens in a hospital is because people have access to information. The information needs to be structured and standardized, as well as presented accurately and on time. Data drives the healthcare industry and as Health Information Professionals, we follow tons of rules and legislation to monitor, check, and audit it properly. If the data is wrong, we not only lose out on funding, but the patients suffer too.
What do you love most about your job?
I love problem solving and this job offers much variety to do so. Every day is a new challenge and there is never a dull moment. There is always something to fix, a problem to solve, and areas to improve. You are constantly learning new things that help you grow for the future. It's a good job to have!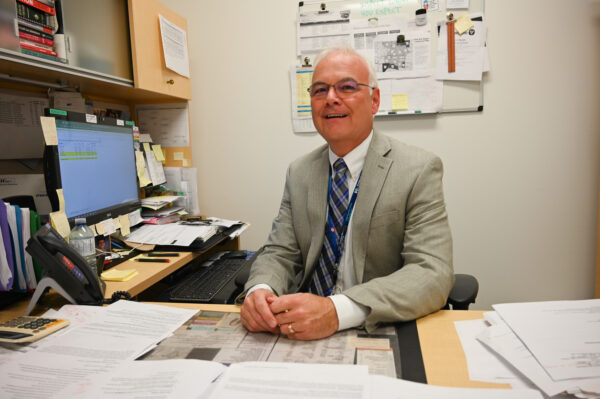 ---