Diabetes Awareness Month: 100th Anniversary of Insulin
Written by: Cheryl Nazareth & Chiara Marcello 
November is acknowledged as Diabetes Awareness Month worldwide. We take this time to honour all of the healthcare providers who have supported patients in their diabetes management. This Diabetes Awareness Month, the World Health Organization (WHO) has decided on the theme of "Access to Care". Diabetes Educator, Cheryl Nazareth, shares her insight on how The Diabetes Centre at Humber River Hospital has done an exceptional job in providing access to various services for clients within the community.
What is Diabetes?
Diabetes is a chronic disease that afflicts many people worldwide. It is a long-lasting condition, in which your body may not produce enough insulin. A lack of insulin can lead to serious health problems regarding your heart and kidneys, as it causes too much blood sugar to remain in the bloodstream. Almost everyone knows of a loved one or a family member that is battling this condition.
What services does Humber River's Diabetes Centre offer?
Humber River Hospital offers various services to our diabetes patients. For instance, we have a foot care program that allows patients to reduce diabetes-related foot complications. Our team has also grown to serve patients with Prediabetes, Type 1, Type 2, and Gestational Diabetes- a type that appears during pregnancy that did not exist prior to it. Additionally, we have liaison with the Black Creek Community Center in providing teleophthalmology services for diabetes clients in preventing blindness. We continue to network with the Stroke Prevention Clinic, Vascular Clinic, Renal Clinic, and Urgent Medical Clinic in providing comprehensive care to patients.
Why is this year extra special?
This year marks the 100th anniversary of insulin. With Canada being at the forefront in the discovery of this life-saving drug in 1921, it is something we, as a community, should celebrate. Frederick Banting and Charles Best were awarded the Noble Prize for their work that allowed patients, especially those with Type 1 diabetes, to extend their life expectancy.
How do educators assist diabetes patients in using insulin?
As educators at Humber River Hospital, we have witnessed patients who are resistant to starting insulin. Many have shed tears after being informed that it would be a lifelong treatment, and others have greatly frowned upon their daily injections. As a team, we have witnessed the joy, sorrow, and pain that comes with the start of insulin. Additionally, many of our gestational patients are overwhelmed with their diagnosis and the start of insulin therapy. As educators, we empower them with knowledge and therapeutic counseling that enable women to carry out healthy pregnancies.
Any additional comments?
We still have a long way to go in eradicating diabetes in the world. We hope for a day in which diabetes will no longer be a chronic disease, but a disease of the past. As for now, with your care and support, we continue to ensure that patients remain informed, educated, and safe in their management of diabetes.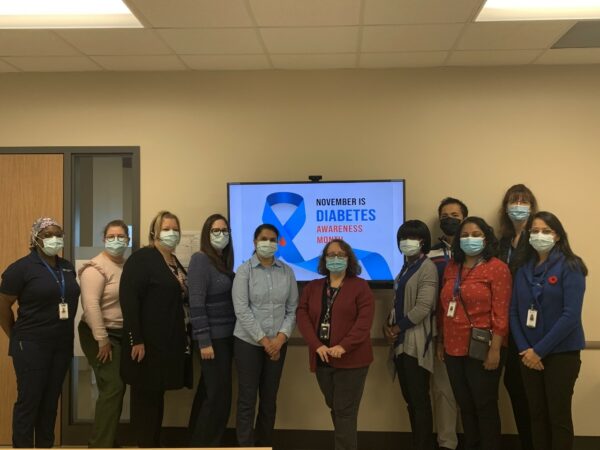 ---