Recreational Therapy Month 2022
February marks Recreational Therapy Month- a time to honour the health care profession that uses research and therapeutic processes to assist patients in achieving their goals and highest quality of life. Humber River Hospital is proud to recognize Amanda Pipino and Stephen Corradino this month, both recreational therapists in the Inpatient Mental Health Unit. The two offered insight on a typical day for a Recreational Therapist, as well as the importance of recognizing such a significant profession.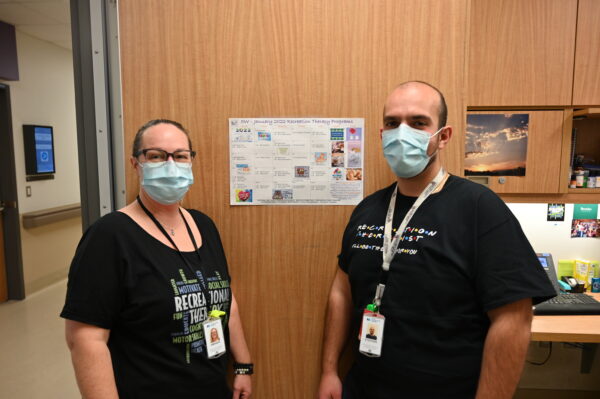 What are the responsibilities of a Recreational Therapist?
Recreational Therapists are primarily responsible for facilitating group programs for those admitted in the inpatient mental health units. We work to restore their functioning through advanced reintegration planning before they return to the community. We help patients fully participate in their treatments and encourage them to make connections between recreation and leisure, and how these types of activities will be beneficial to them post-discharge. We also spend time educating patients on various topics, and at times, offer one-to-one support.
What services do Recreational Therapists offer at Humber River Hospital?
We have developed a wide array of group activities to help patients find their particular interests, such as music or exercise, and help them learn new activities to connect to. We also hold numerous education sessions where we discuss topics, such as the importance of exercise and the benefits of leisure activities. We help patients in building confidence and managing stress by discussing their strengths, ways to practice mindfulness, proper breathing techniques, and various coping skills. While the activities are very person-centred, the educational pieces remind patients that it is okay to not feel great, and that their rough patches do not define them. Many of us have experienced something- a card game or a game of basketball- where we lost track of time. That is the true benefit of recreational therapy- being able to be yourself in whatever it is that you are doing. The activities we provide here are how patients are able to engage in that. We want the skills that they develop, to prevent their need to return.
Nonetheless, we also take patients out of their comfort zone and encourage them to do activities they may not normally do, such as adult colouring. They begin to enjoy it, realizing how calming it can be and how it is an ideal way to cope with stress. We find that these activities are a non-intimidating way to engage in conversation with patients. It is possible to build connections and get to know people through simple leisure activities, such as Connect 4. It really shows the power of social connection and how it can have a strong impact on a patient's development.
What types of patients do Recreational Therapists typically work with?
We work with an array of people aged 19 to 95 with different conditions, such as schizophrenia, psychosis, bipolar disorder, depression, anxiety, addictions, dementia, and more. We never know who is going to be admitted, meaning no two days look the same, but we anticipate the challenge because it is the opportunity to meet someone new. Regardless of an individual's condition, a person is still a person, and being able to meet them and hear about their interests and ambitions is amazing. Being able to encourage someone to speak about their future, especially when they have had a troubling past, is very rewarding.
How has COVID-19 affected these activities?
COVID-19 caused our whole dynamic to change. Our objective is to get everyone together to encourage social interaction, and because of the pandemic, we could no longer do so. We were only able to have a certain amount of patients in different groups and many of our programs had to be put on hold, i.e. our gardening and baking programs. We have started to reintroduce some of the programs by making various adjustments. For example, we realized we could continue to run our colouring group by giving each patient their own set of sanitized supplies, rather than sharing materials.
Why is recognizing Recreational Therapy Month so important?
By promoting Recreational Therapy, we are also raising awareness about other topics as well, such as mental health. It is also important to inform others on our role and our purpose in providing a therapeutic approach to clinical care. We do a lot of collaboration with other departments and organizations as well, including schools like Brock University and Seneca College. We use this time as a way to help the students understand the importance in what they are working towards.
What do you love most about being Recreational Therapists?
Amanda: I love seeing the difference we make in the patients and how they take the education we have taught them and use it to achieve their goals. When patients begin incorporating what they have learned into their daily routines, such as meditation and gratitude journals, that is how I know I was successful at my job.
Stephen: It is hard to pick one thing because as a Recreational Therapist I get to be myself and bring the energy. I enjoy being able to remind patients that they are not their condition- that they are still people who might just be going through a rough patch, but will come out stronger.
What are some tips to cope with daily stressors?
Remember the 50 ways to take a break. You are allowed to slow down and take time for yourself.
Remember to not be so hard on yourself and enjoy the little things in life.
If you have always wanted to try something, take the chance to try it and challenge yourself.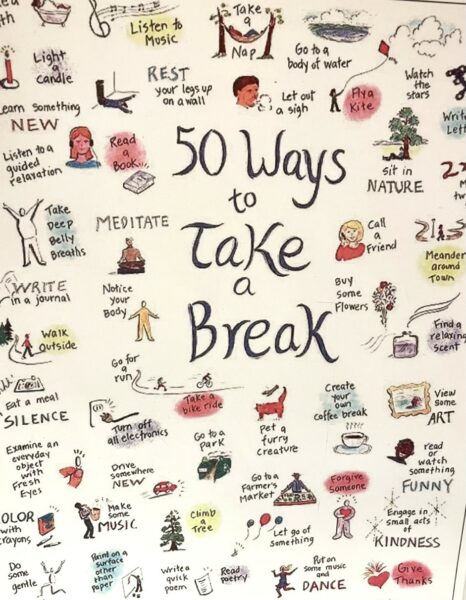 You are not defined by your mental illness or condition, so take the time to try something new or something you used to do. That is the tool that will help you push through your rough patch and manage your stress.
---