Dr. Vincent Brienza Wins Award of Excellence in Teaching in Emergency Medicine
Dr. Vincent Brienza, an emergency physician here at Humber River Hospital, has received the Award of Excellence in Teaching in Emergency Medicine from the Department of Community Medicine at the University of Toronto. Dr. Brienza continues to be recognized for his work with medical learners and for his valuable contribution to medical education.
This award recognizes excellence in teaching and education by faculty within the Division of Emergency Medicine, Department of Family and Community Medicine. We sat down with Dr. Brienza to get his thoughts on being an educator and the award.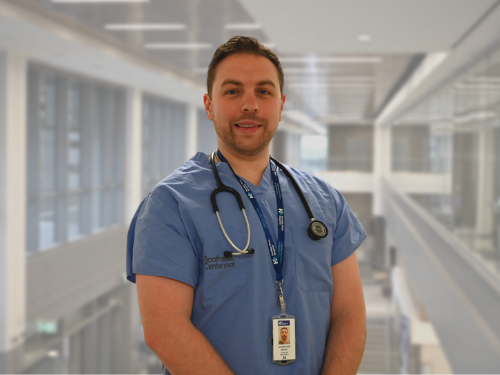 Could you tell us a bit about your role clinically, and as an educator?
My role is to provide great patient care to patients who present to our emergency department first and foremost, but as a community teaching hospital, we have a duty to train future doctors who are in medical school or residency. My role is to ensure that trainees who are paired with me have a chance to practice medicine in a safe environment, with a watching eye over their shoulder and a guiding hand on their back to ensure they get the best learning experience. Through this, patients get the best possible patient care.
You have received the Award of Excellence in Teaching in Emergency Medicine. Could you speak a bit about the award and what it means?
The Award of Excellence in Teaching in Emergency Medicine is a yearly University of Toronto based award that recognizes physicians who have been acknowledged by their peers as exceptional teachers to trainees. The basis stems from recognition from program leads and trainee evaluations. I am honoured to work with the physicians here at Humber who have received this award in years past.
Could you touch upon the teaching environment here at Humber?
Humber is an exceptional teaching site and I tell any trainee who I encounter to try and set up an elective here. The combination of amazing physicians who work here, paired with the unbelievably diverse patient population make for an unforgettable experience and make this an ideal place to train for the real world.
Is there a specific memory you can share from your teaching experience here at Humber?       
It feels like just yesterday when I started practicing, but then I notice that residents who trained under me at Humber had such a great experience and are now my co-workers (shout out Dr. Marco Da Silva and Dr. Kishan Shani)!
Dr. Brienza was previously the recipient of the John Hagen Teaching Award here at Humber. You can watch his full interview here.
---