Midwifery 101
The midwives at Humber River Health play a fundamental role in delivering safe and compassionate care to new and expecting parents in our Maternal and Child Department. They are well-trained healthcare professionals who are readily available to assist with and respect the needs of birthing parents and their families.
Noelia Greizerstein is a midwife who has been at Humber River Health for the past two years. She completed a Bachelor of Health Science with Honours in Midwifery at Toronto Metropolitan University (formerly Ryerson University). A Bachelor of Health Science degree is required to become a midwife, which can take roughly four to six years to complete. A bridging program also exists for midwives trained internationally.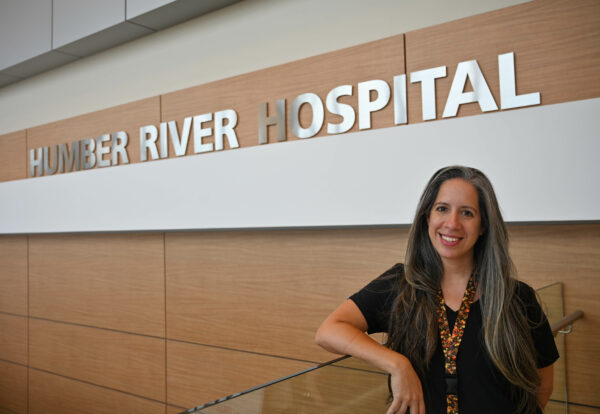 Noelia became a registered midwife in 2014 and worked in the downtown core, until joining the West End Midwives at Humber River Health in 2020.
Since 2015, Noelia has also been an Adjunct Professor at Toronto Metropolitan University, providing clinical education to midwifery students. In 2022, she became the instructor for the Emergency Skills Workshop by the Association of Ontario Midwives. This is a management workshop for the most common emergencies during labour and birth that all midwives are required to recertify biannually. "Practicing midwives must also recertify in the Neonatal Resuscitation Program annually and in CPR biannually," said Noelia. "We are required by our College to complete at least three additional Professional Education activities per year, such as conferences, courses, and more."
Noelia wanted to pursue this profession from the moment she learned about the Ontario midwifery model. The model is based on continuity of care, meaning midwives meet their clients prenatally to provide care to them throughout their pregnancy, labour, and birth, as well as postpartum care. Midwives remain on call 24/7 for their patients.
During their appointments, midwives take the time to educate their patients and explain the options and rationales for the screening and tests offered. "This empowers our clients to make their own decisions in care, and to connect to and trust their own bodies," explained Noelia. "I love the fact that midwives in Ontario can provide birth choices and out-of-hospital birth to our clients, through a homebirth and at birth centres."
Midwives also work with vulnerable populations, newcomers and/or uninsured residents. "I feel strongly and am committed to helping improve equity and healthcare access, as well as help others navigate our healthcare system."
As a midwife, Noelia is responsible for providing primary prenatal, intrapartum, and postpartum care to low-risk pregnant people. Midwives typically start seeing clients around six to eight weeks of pregnancy, offering the same appointment schedule as an obstetrician and/or gynecologist, as well as the same prenatal screens, bloodwork, and ultrasounds. Midwives have a unique model of care that allows them to discharge clients from the hospital within two to three hours of giving birth and offers two to three at-home visits within the first week. "By doing this, we support the establishment and continuation of breast/chest-feeding, postpartum recovery, and newborn weight gain," explains Noelia. "We continue to see our clients and their babies until six weeks postpartum."
Noelia enjoys midwifery because she is able to assist people on their journey to parenthood. "I love it all, but one of the things I love most is getting to know the people in my care and being able to witness their transformation into parents – and, of course, the babies!"
To those interested in entering the midwifery profession, Noelia encourages you to do a lot of research and evaluate if this is the right path for you. "Talk to working midwives and seek out volunteer opportunities before taking the leap. Midwives often take on many roles in the communities in which they practice that go beyond birth work. Being a midwife is challenging and demanding work, and equally as rewarding!"
For more information about the West End Midwives, visit https://www.westendmidwives.ca/.
For more information about having your baby at Humber, visit https://maternal.hrh.ca/.
---