Command Centre Clinical Tile Series: Seniors Care
The members of our communities that have been the hardest hit during the COVID-19 pandemic are our senior citizens. Their care is of the utmost importance, so it is essential to monitor their condition and predict future risks. This is where the Command Centre at Humber River Hospital utilises its Seniors Care tile.
Every senior patient is prescribed a plan tailored to their needs by healthcare professionals. If a geriatric patient is falling off of their specialised plan, the staff at the Command Centre are made aware of this through the tile by the systems AI. In addition, the tile allows Command Centre staff to ensure patients are receiving care in a timely manner. When something deviates from their care plan, staff are alerted. You see this below with a sample tile.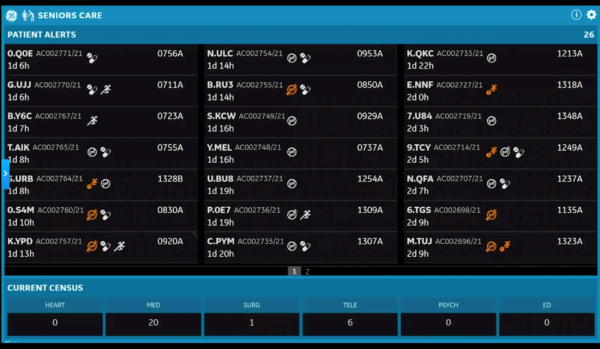 All of the senior patients on the tile have alert icons that indicate to Command Centre personnel that there are certain things causing the patient trouble. The systems AI works with technologies on the floor with front-line workers such as patient monitors to detect anything that could be a risk. Examples include alert icons related to mobility, medication, or nutrition that light up when a senior patient requires assistance. If the recommended treatments have not yet been carried out, the Command Centre collaborates with front-line staff to complete the remaining tasks.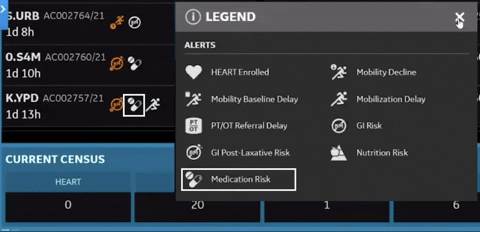 By clicking on a patient, you can see who their most responsible physician or nurse is and how to reach them. In addition, staff are able to filter results depending on what type of alert they would like to focus on. For example, users such as nutrition managers can focus on patients with nutritional related results.
Humber River Hospital created a program called the HEART Program: Humber Early Assessment and Restorative Treatment. The program targets frail and elderly patients over the age of 65 who have high restorative potential and would benefit from focused attention and an accelerated care plan. The bottom section of the tile called the Current Census identifies where patients are located in the hospital that are candidates for this accelerated care plan.
Although all age groups are at risk, senior citizens over the age of 65 are at the greatest risk of contracting COVID-19, developing severe illnesses, and decompensating during their hospital stay. Overall, the Seniors Care tile aids the hospital in reducing senior patient stays, cuts down on readmissions, and promotes the rate of discharge which is critical in reducing their likelihood of being exposed to safety threats such as COVID-19.
---