Get to Know: Kyle Shermet, Emergency Department Manager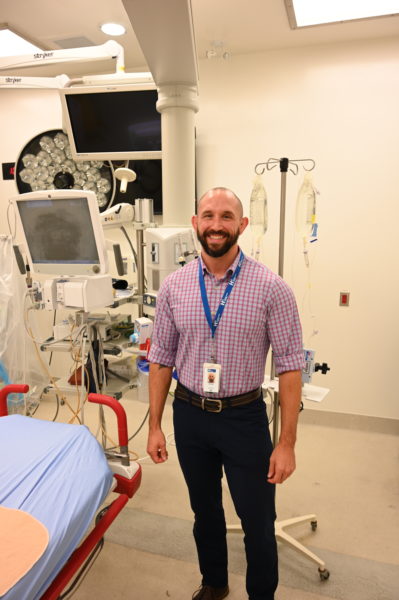 How would you describe your new role?
The role of any leader is to build trusting and supportive relationships with all teams. Realizing that all team members are an integral part of overall success is crucial to developing relationships positively. I have found the most effective way to build these effective, trusting relationships is through open communication and transparency. My role as the emergency department manager is to support and communicate so that all members of the various teams have the understanding and knowledge to work together to provide the best patient care in alignment with the corporate strategy.
What makes you proud of the Emergency Department at HRH?
Having been in the organization for two weeks, I can already say that I am proud of the teamwork. We have received many compliment letters from the patients over the past weeks despite patients' high volumes. I am proud to be part of a team that delivers compassionate and respectful care in such a busy department.
What are some of your most significant accomplishments at HRH?
Prior to coming to Humber River, one of my accomplishments that I am proud of is being the clinical lead for ECTAS implementation. I was able to bring a clinical lens to the implementation team to ensure practical workflows for the nurses who would use the system. I was also responsible for training all of the triage nurses in the organization, which was a large and rewarding endeavour.
My most significant accomplishment since starting at HRH two weeks ago is, I have not gotten lost! I look forward to seeing how I can contribute to the organization.
What technology at HRH excites you?
As I familiarize myself with all that HRH has, I find myself incredibly impressed with a number of systems. This organization's technological focus has been proven to be successful with the high level of performance and care in this hospital.
Prior to coming to Humber, I was well aware of the outstanding work that had been accomplished in the development and launch of the Command Centre. Having now seen it first hand, it has lived up to the expectation and more. I am thrilled to be at an organization that values the effective use of technologies to enable the best patient care.
What motivates you?
A primary motivator for me and one of the reasons I moved into leadership was to support and empower the team members. There are few things more rewarding than assisting in the development of amazing people. If you view a person as what they could be, they will develop into what they should be. It is an honour and privilege to mentor and develops staff to their greatest potentials.
---