Pregnancy and COVID-19 with Dr. LaRoche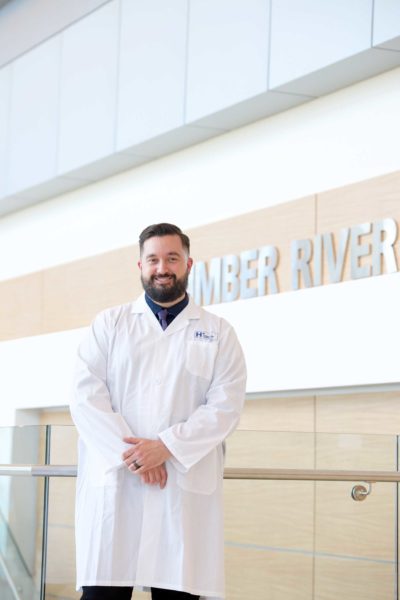 As Toronto and the world copes with the second wave of COVID-19, a specific portion of the population that may be particularly concerned are pregnant people and their families. Many are curious as to how the pandemic will affect their pregnancy and whether they are at a higher risk of contracting COVID-19. We sat down with Dr. Andre LaRoche, Chief of Obstetrics & Gynaecology and Director of the Maternal Child Program at Humber River Hospital to discuss what expecting parents should know about Pregnancy and COVID-19.
Dr. LaRoche has worked with more than a dozen pregnant people with COVID-19, and has kindly answered some of the most commonly asked questions regarding this topic.
Currently, how much data or evidence is available regarding Pregnancy and COVID-19?
"There is quite a bit of data, but not a lot of evidence yet." said Dr. LaRoche. "There is historical data that we have from China that was collected from when the virus first started, and we have also had some data from the States. In Canada, we are doing our own research on how the virus is affecting mothers and their pregnancy. One of the main studies that Humber River Hospital is a part of is called the COPE study, COVID-19 in Pregnancy and Early Childhood."
The COPE study aims to establish a biobank of material from infected and non-infected women and their children to study the effects of COVID-19 on their health.
"They collect all sorts of samples, such as amniotic fluid in the mothers, blood from the mothers, as well as cord blood, among other things to see how this can affect the pregnancy. What we have seen in Canada so far is that there has not been any real significant outcomes." Dr. LaRoche said.
Are pregnant women more susceptible to acquiring COVID-19 than non-pregnant people?
"No, pregnant women are not more susceptible than anyone else as long as they are washing their hands, wearing a mask, and taking precautions like everyone else should be doing. However, if a pregnant woman were to get it, in theory, there is a higher chance that she would have symptoms compared to somebody who was not pregnant."
This is because pregnancy may cause increased levels of stress on their respiratory and cardiovascular systems and can lead to a compromise in their immunity defense.
"With what we see with pregnant women and the flu, mothers in theory could get COVID-19 symptoms worse than somebody else their age. However, we have not seen that happen. Typically what we have seen are pregnant patients who are asymptomatic and have discovered it because someone they know had it and tested positive. However, we have not had patients that have been ill and pregnant from the virus. COVID-19 is not easier to catch for pregnant women, but if they get it, symptoms could be worse. This is what usually happens with the flu, but we have not seen that at the hospital." he added.
Have there been any COVID-19 positive pregnant patients at Humber River Hospital?
"Though we've had some COVID-19 positive pregnant patients, we're fortunate at Humber River Hospital that all patients have private rooms, so there have not been any issues with isolation. No patients have contracted COVID-19 at the hospital. Also, no nurses or physicians have contracted COVID-19 from the patients either because Humber has been very good at providing us with PPE right from the beginning."
What risks do COVID-19 pose to unborn children? If the mother is infected, can there be detrimental effects to the baby?
"From what we've seen so far, no." said Dr. LaRoche. "Babies seem to get some immunity that develops from the mother, so there is protection of the baby initially from some of the symptoms. If we compare babies who have been born from mothers who have recently contracted COVID-19, to mothers who had COVID-19 three month ago, the former have not converted to positive."
According to the Centers for Disease Control and Prevention (CDC), it is highly uncommon for mothers with COVID-19 to pass the infection to their newborn. From the few cases that have occurred, it is unknown if the newborns develop the virus before, during or after birth. Nevertheless, is it unlikely that a newborn could contract COVID-19 from their mother, and there is no evidence to suggest that an unborn baby could develop any other problems due to the virus.
"Our patients have been great and cooperative by wearing their masks and washing their hands around their babies when they have COVID-19. We are not separating the babies from their mothers; they are staying with their babies. None of our babies have tested positive for COVID-19.," said Dr. LaRoche. "So far, no negative outcomes in babies, not in our experience."
There is some uneasiness about visiting a hospital during this time, what would you say to parents who are nervous about attending appointments?
"The hospital is probably one of the safer places to be, because it is a very controlled environment. Everybody has masks on, everybody is washing their hands, and all the patients have masks on. It is a very safe place to be, rather than being at the grocery store or the park."
Patients can always ask their healthcare provider if it is possible and appropriate to conduct appointments virtually or over the phone.
What is Humber River Hospital doing to ensure that pregnant people are safe?
"The hospital has spread out some of the visits, so we are not seeing patients as often. However, there are different modes of how we are seeing people, such as doing virtual visits when it is safe to do so. But of course, there are certain amounts of things that we have to see patients for. We are limiting the amount of patients that can come into the office at a time, so we do not have a waiting room full of people, this ensures that everyone is social distancing within our offices."
Humber River Hospital was built to handle a pandemic, as it was designed just after the SARS outbreak in 2002-2003. Designers applied previously learned knowledge and created plans with an increased focus on pandemic and hazmat situations. A major element that protects patients in the hospital is the air exchange rate. This refers to the number of times in an hour that the air within a room is replaced.
Dr. LaRoche stated, "Because of the way that the air exchanges, the functional layout of the rooms, and the way it is designed, it is one-hundred percent fresh air that is circulated in the hospital. There are over 20 air exchanges that occur in an hour, which is the most you can get in any building."
This means that even if there are contaminants in the room, the air is quickly replaced and carried out of the building.
"In addition, Humber has a private room only philosophy for quite a few things, so we are never co-hosting two women together or two babies together. Even in our NICU (Neonatal Intensive Care Unit), we have private pods. If a mother or baby have tested positive for COVID-19, there is very little chance of cross-contamination.," he said.
What precautions can parents take?
"Continue doing what public health is recommending. This means staying away from extended friends and family if they can, stay away from social gatherings, try to limit whom you are seeing. If you cannot do this, maintain a distance and wear a mask."
General precautions such as maintaining hand hygiene, avoiding touching your face, limiting social gatherings, and wearing a mask, are recommended to pregnant women as well.
"There is no instruction specific for pregnant patients, just be careful. After the baby is born, I know that everybody wants to come over and see the baby, but parents must make sure to keep within their social bubble. FaceTime and Zoom call when you can to reduce contact with the baby and mother." he said.
Any final thoughts?
"Humber is a very safe place because of what we learned from SARS and how the hospital was designed. Humber was very proactive in getting PPE for us right from the beginning. We implemented lots of different policies, procedures and guidelines to protect ourselves and patients. Humber did a great job of acting early, so it is a safe place to be."
With the current census and data available, the risk of COVID-19 to pregnant women and unborn babies are low. Once contracted, a pregnant COVID-19 positive patient may experience symptoms more severe than non-pregnant patients may. However, affected patients at Humber River Hospital have had successful pregnancies and healthy newborns.
If you believe you may have COVID-19 or have been exposed to the virus, it is important to contact your healthcare provider right away, especially before any appointments.
In addition, publicly funded testing is available and easily accessible for those who are symptomatic, have had close contact with a confirmed case, or are part of an outbreak investigation.
Humber River Hospital has two COVID-19 Assessment Centres. Click here for more information.
If you have questions about COVID-19, contact the Toronto Public Health Hotline: 416-338-7600
For non-emergency medical advice, contact Telehealth Ontario: 1-866-797-0000
---