Command Centre Clinical Tile Series: Delays in Care
Delays in patient care can result in overcrowding and subsequent increased patient risk and mortality.  The Delays in Care tile in the Command Centre highlights delays in both workflow and hospital services. The tile provides insight as to which patients are experiencing delays so that staff in the Command Centre are able to better manage patient flow and intervene when appropriate. If a service has fallen short of Humber River Hospital's defined service level agreement, the patient associated with this delay is displayed on the tile.
Patient data is fed from patient monitors and subsequently into the Electronic Medical Record (EMR) which translates into a visual summary on the tile to illustrate what resources or procedures are delayed at that moment. The Delays in Care tile presents a useful at-a-glance awareness of where delay challenges are, which provides an easier understanding of how to address those issues.
The sample tile below shows what staff see on the Delays in Care tile.
Each block or row on the tile represents a single patient. In the lower right corner of the tile, users can see the total number of patients at the hospital who are experiencing delays in care. Each block displays the patient's name, identification number, their location, as well as an icon that illustrates the reasoning for the delay. These alerts focus on tracking distinct workflow delays as well as service-level delays. The types of alerts that could appear on the Delays in Care tile include abnormal lab values such as an irregular white blood cell count, or abnormal creatinine levels which give staff insight on patient kidney health. Other alerts could display pending procedures such as computed tomography (CT) and mammography scans, ultrasounds, X-Rays, as well as magnetic resonance imaging (MRI). In addition, alerts can display delays in assessments or therapies, such as pending physiotherapy or pathology.
Users are able to filter patients by Delay Type or by Unit. If staff within a certain unit want to view their patients specifically or by the service they provide, they can do so.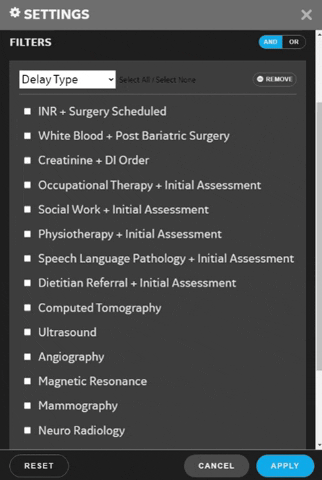 By hovering over a block, the tile will display the doctor caring for that specific patient and the amount of time the patient has been waiting, signified with the letter "H". Below that, the service that the patient is waiting for is visible, as well as a time of delay notification.
In the sample tile below, the highlighted patient has displayed abnormal trending creatinine lab results coupled with diagnostic imaging (DI) order which indicates that the patient is waiting for a medical imaging exam. In this example, the patient is waiting for a CT scan. Staff are able to know why the delay of care is occurring and who they should contact in regards to that specific patient. The orders remain open and active until completed by a healthcare professional and submitted into the EMR. Once the procedures or assessments are completed, the patient will disappear from the tile.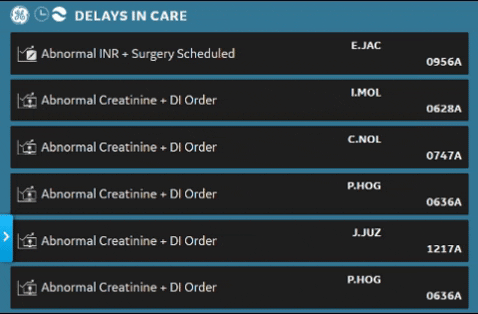 Another example below presents patients who are experiencing delays in receiving a CT scan and an ultrasound of the chest and thyroid, respectively. By hovering over the patient, staff can see specifically what part of the body the procedure concerns and what doctor to contact to inquire about the patient's delays.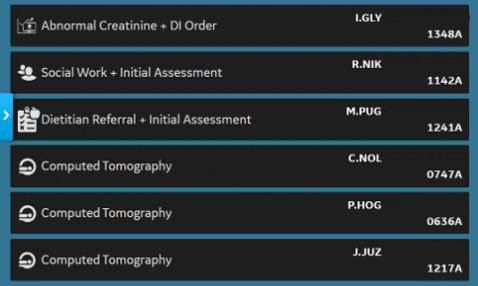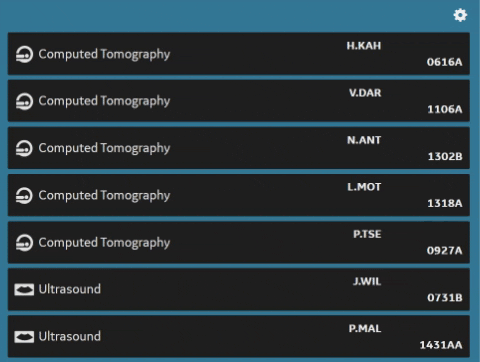 It is critical to reduce delays in care and avoid unnecessary waits for patients throughout their stay. If a patient requires a specific procedure or assessment to be done, staff can view the Delays in Care tile and reach out to that specific department to move things forward. Patients can also be prioritized based on who requires care with the most urgency. By observing these alerts on the tile, staff in the Command Centre, as well as the front-lines, can determine the best course of action to get the patients back on track regarding their care plan. In addition, it allows staff to ensure that healthcare services offered at Humber River Hospital are aligned with patient demand. Improvements in patient health and satisfaction can be observed by reducing or eliminating these delays.
---