24th Annual Family Practice – CLINICAL DAY Saturday, December 4th
24th Annual Family Practice CLINICAL DAY Saturday, December 4th
Please register online at: https://streamcastmed.com/hrh-clinicalday2021
Registration Fee:
$45.00 plus HST (virtual)
$65.00 plus HST (in-person)
The HRH Family Medicine Scientific Planning Committee is pleased to announce our 24th Annual – Clinical Day.   Our Family Practice conferences have taken place at Humber River Hospital for many years with great success as an exceptional education program to assist Family Physicians with the management of their patients.
The focus this year is on "Excellence in Health Care – Improving Outcomes".  We are planning to offer a hybrid program with the option for physicians and other primary care providers to attend in-person or virtually.
The Learning Objectives of the program are to enable the participants to improve their clinical skills in the prevention, diagnosis, treatment and long-term management of chronic disease states.
All sessions will be recorded for review post conference
Certificates of attendance will be emailed to all participants post conference
Clinical Day Committee Members:  Dr. Karen Cronin, Dr. Dario Del Rizzo, Dr. Art Kushner, Dr. Patrick Safieh, Dr. Jordan Solmon, Dr. David Satok, and Dr. David Zeldin
 Schedule/Speakers: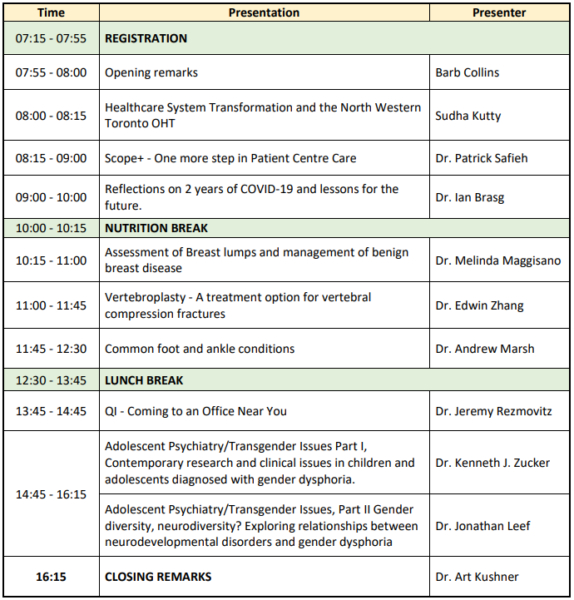 ---