World Kidney Day
March 10 marks World Kidney Day, a day that recognizes the importance of kidney health and reducing the prevalence of kidney disease worldwide. Personal stories are an effective way to spread awareness and shine a light on the incredible journeys experienced by others. In honour of the day, Adele has kindly shared her kidney transplant story and her experience at Humber River Hospital.
Adele underwent transplant surgery and received a kidney from her husband, Ralph, just over three years ago, on January 21, 2019.
How was your experience at Humber River Hospital?
Adele:
We had a great experience with the whole team at Humber River Hospital. The clinic's staff and nurses who assisted with my treatments were phenomenal and made the experience less overwhelming. They helped us remain centred and have a plan, which was useful from start to finish. I was transferred to St. Mike's for the surgery, but my experience was shaped the most by Humber River. I worked and lived in the community growing up and I was happy to be somewhere I felt comfortable and at ease.
We became like a family with the nurses. Not only would they check in with me, but also with Ralph to see how things were going. The community was just amazing.
Ralph:
I primarily went through St. Mike's for the surgery, but I assisted Adele throughout her whole time at Humber River Hospital. She and I went to the educational classes, with the Transplant Liaison Nurse, Kathy Schmidt, which was helpful and really put our minds at ease. They provided insight into various options and resources that were available to help us prepare.
One of our first experiences at the Church site was when they were setting Adele up for dialysis, and a former transplant patient walked in. The nurses were all so happy and excited- this is what drove us to want the same thing.
How has the recovery been?
The recovery was a progression as healing takes time. In the first year, there were a lot of emotions. Almost within the first week, I noticed a huge difference in my health and I continued to get better as I went on. I think what helped me the most was getting involved with the Transplant Ambassador Program (TAP) at the Church site. I really wanted to give back and work with Humber again, and as soon as I could, I did. It has been great for the community, but has also helped us heal a lot as patients. Just because we are post-transplant, does not mean we are not patients anymore- we are healthy sick people. It has definitely been an emotional journey, but these outlets have been a big help.
What is the Transplant Ambassador Program (TAP)?
The Transplant Ambassador Program is a patient-led volunteer program made up of both kidney donors and recipients who aim to share their lived experiences with others going through similar journeys. They strive to reduce the barriers to kidney transplantation and donation in collaborating with the Ontario Renal Network and Trillium Gift of Life Network.
It was originally in-person, but moved to virtual due to COVID-19. As much as I miss the in-person aspect, reaching out to people virtually has been great in maintaining a connection within the community and carrying momentum, while staying safe.
When I got back to the Church site, I was so excited to see everyone and show them how much their work had positively affected my life. I love that I get to work with Kathy again too. I was one of her first patients for the Explore Transplant Ontario education program and now everything has come full circle.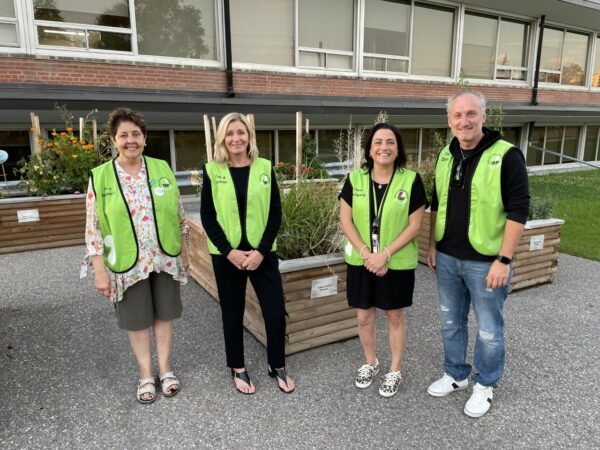 Do you have any final words for the Humber River Hospital team?
I do not think a "thank you" is enough. I owe a lot to the phenomenal team at the Church site and volunteering is just one way I can think to give back. I still try to keep in touch with a lot of the nurses and staff that helped me through my journey. It was always so impressive to see how they went above and beyond for even the smallest things, such as checking in and being so open to connecting with us. They made us feel like we were not just another number.
They are such a phenomenal group and carry themselves with grace and compassion. I would love for all of them to have the spotlight and be recognized as great professionals and human beings.
---