World Maternal Mental Health Day
In May we raise awareness for the mental health concerns of pregnant women, mothers, and families. The journey towards motherhood is life changing and can increase vulnerability towards mental illness. With a heightened stigma around maternal mental health, it is important to shine a light on the significance of recognizing symptoms, speaking up, and seeking out resources for yourself or someone you know.
The physicians, nurses, and staff in the Mother and Baby Unit at Humber River Hospital understand the need for emotional support throughout pregnancy, birth, and postpartum. Susan Rouse, a Registered Nurse from the Prenatal Clinic, and Katelynn Kitamura, a Social Worker from Maternal-Child, have provided insight into maternal mental health struggles and how they can help.
Susan Rouse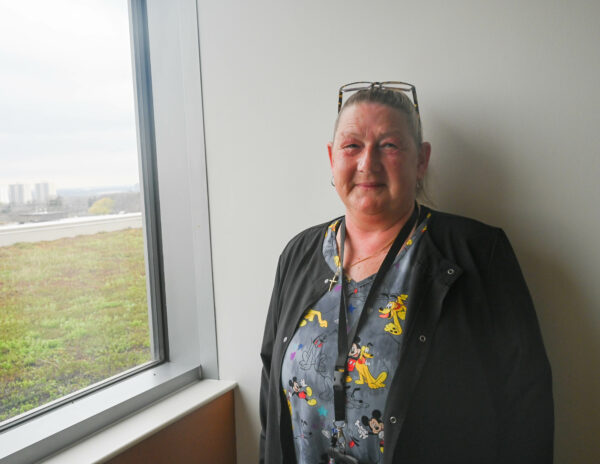 Tell us about your role.
I am a Registered Nurse in the Prenatal Clinic and Early Pregnancy Clinic, and have been at Humber River Hospital since 1989. I assist with high-risk, more complicated pregnancies where there may be health concerns for the baby. At times, the conditions may be fatal, and the mothers may require counselling. Support is vital throughout their experience to assist with approaching decisions one step at a time.
I also work in the Early Pregnancy Clinic, which assists patients experiencing a miscarriage. About 90% of pregnant women who visit the clinic have experienced a miscarriage. This can become a very emotional time for patients, in which support becomes essential. Our social workers are available for immediate crisis. We may also refer patients to our mental health programs, and we typically recommend the Pregnancy and Infant Loss (PAIL) Network at Sunnybrook Hospital.
What is the PAIL Network?
The PAIL Network is a program mainly run by people who have experienced miscarriages and the loss of a baby themselves. They know how it feels to lose a baby and can understand what the patients may be going through. It is a community of peer support and shared experiences.
Why is it important to raise awareness for maternal mental health?
Nobody talks about miscarriages. Most people tend to believe they are alone, but as soon as it is spoken about, people begin to see how many others have had similar experiences. Patients should seek support through their friends, family, and external sources, which comes from raising awareness. Especially throughout COVID, anxiety levels heightened due to minimal access to resources and support. Awareness is necessary to educate patients about the various resources and the importance of staying connected to better their mental well-being.
Katelynn Kitamura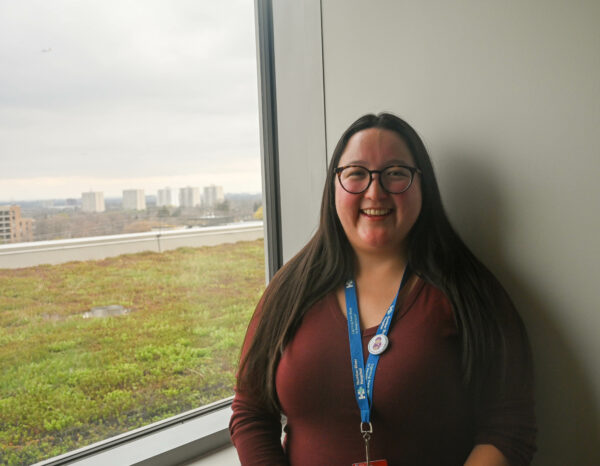 Tell us about your role.
I am a Registered Social Worker in the Maternal-Child Program and have been at Humber River Hospital for about a year. A majority of my responsibilities are in the NICU, the Paediatric department, and the outpatient clinics in Paediatrics. I support mothers experiencing postpartum depression, anxiety, and other mental health conditions. I also provide support in the community and offer general counselling, when required.
Is postpartum depression common?
We see postpartum quite often, especially in the NICU. Postpartum can hit anyone for a variety of different reasons, but I tend to see it more in the NICU due to the separation mothers experience from their babies. Most of the time, mothers do not always know what is happening with their baby from a medical perspective as well, which creates much anxiety and uncertainty.
What are the common stressors for pregnant women?
Every journey is different, but many factors contribute to the stress and anxiety experienced by the patient. This includes:
• Finances
• Housing
• Medical concerns, including COVID-19
• Lack of available supports, especially due to cultural differences or not having family members or loved ones to turn to
What types of support are available?
Humber River Hospital offers a postpartum support group, which is a 12-week program where mothers come and meet with other women. It is available to anyone who has given birth at Humber River Hospital and mitigates isolation while building a community. The feedback on the program has been amazing and many families have benefited from it.
We also work with external partnerships, which include:
• VHA Home Healthcare works with families from a lower socioeconomic status and provides PSW support in Toronto. They assist in mitigating the risk of developing postpartum.
• Haven offers financial support for families, as well as food baskets, donation closets, and more.
• Canadian Premature Babies Foundation offers NICU support groups connecting parents across Canada.
Ending Remarks.
What advice do you have for (soon-to-be) mothers struggling with their mental health?
Susan: Reach out for help! There are supports out there- call or speak to us and we will guide you in the right direction.
Humber River Hospital does a phenomenal job assisting women emotionally, rather than just physically throughout their pregnancy journeys. We have a talented team that understands patients and knows when something is not right and extra support is required to steer patients in the healthiest direction.
Katelynn: Do not be afraid to ask for help! You do not know what another person may have experienced until you talk about it.
---