The Falls Prevention Program: The Patient Experience
The falls prevention program, located in Humber River Health's healthy living clinic, assists seniors in avoiding and preventing falls, while improving their balance and mobility. Many patients have experienced positive changes to their overall health as a result of their time in the program.
Fred's Story
A few months ago, Fred Thornhill's physician referred him to the six-week falls prevention program at Humber River Health.
While participating in the program, Fred learned various activities to improve his balance and strengthen his upper and lower body. He was also taught a range of activities he could practice at home to improve his overall structure and mobility.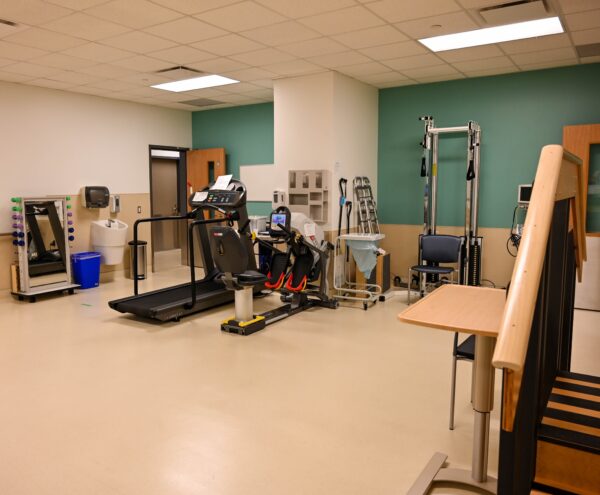 "I really enjoyed meeting with all the other members every week," said Fred. "We had fun in the program together. I had a great time!"
Fred believes the program's success comes greatly from physiotherapist Denise Lai and rehabilitation assistant Hyun Gong, who run the program. The two were helpful, knowledgeable, and caring, and always ensured to put safety first when it came to the various exercises.
Fred believed the program to be very beneficial and noticed positive results in regards to his balance and mobility.
To those unsure if the program is a right fit for them, Fred encourages them to "give it a go, you'll enjoy it! I highly recommend trying it out if you struggle with balance and mobility."
Marion's Story
Following a wrist fracture in 2020, Marion Tully's gerontologist referred her to Humber River Health's falls prevention program. Her gerontologist recommended the program as a way to assist with pain and improve Marion's balance.
During the program's group exercise sessions, Marion worked with weights, went up and down steps, used fitness machines, and worked heavily on balance by focusing on putting one foot in front of the other.
The education sessions were also very informative and gave Marion an opportunity to ask important questions and bring home key takeaways to incorporate into her everyday routine.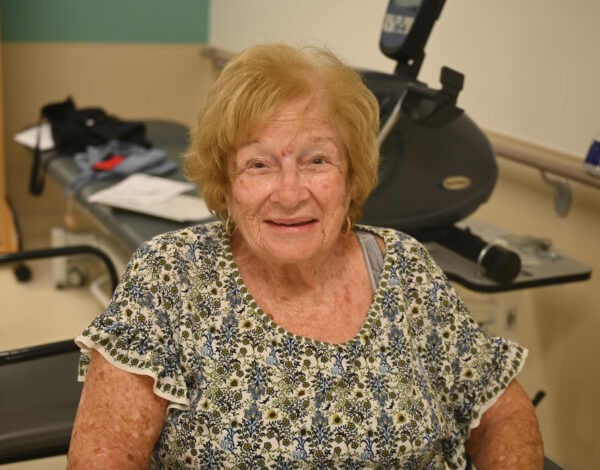 Marion mainly enjoyed the program because of the community around her. She enjoyed socializing with the other members and being with everyone. "It was inspiring to see how difficult the program was for everyone at the start and how much we all improved by the end," she explained. "The physiotherapists and rehabilitation assistants were also very kind and encouraging. They wanted everyone to reach their full potential!"
Marion saw noticeable results by the end of the six-week program. Her legs and arms are much stronger and she believes she has improved a lot with her balance and mobility. She continues to utilize the skills she learned to benefit her everyday.
To those unsure if the program is a right fit for them, Marion encourages them to "go for it! It is a wonderful program that is very beneficial to your health- I would love to do it again if I could!"
Peggy's Story
Peggy Purdy began her first session in Humber River Health's falls prevention program after breaking her femur roughly four years ago. Peggy has done multiple sessions since then to improve her balance and mobility.
While in the program, Peggy was introduced to new exercise tools intended to strengthen her arms and legs, as well as assist with her balance. Peggy also participated in the education sessions that allowed her to take new skills and information and incorporate it into her everyday life.
Peggy primarily enjoyed participating in the program because it provided structure. "It was a little community of everyone doing the same routine, which was very motivating," she explained. "The instructors that went through the course with me were also amazing- I cannot say enough about those girls."
Peggy continues to practice everything she learned while in the program as she has seen ongoing improvements in her balance and movement.
To those unsure if the program is a right fit for them, Peggy encourages them to "do it regardless! It's a place where you receive tons of encouragement from other people and it's such a good feeling to know you're cared for!"
Chandra's Story
Chandra Persad began participating in the falls prevention program after being referred to the geriatric clinic at Humber River Health by her physician. Chandra began the program in July and has been thoroughly enjoying it.
Chandra's favourite part of the program has been noticing positive results in herself in terms of her balance and mobility. She has been finding it easier to move around at home and do activities she had trouble doing previously.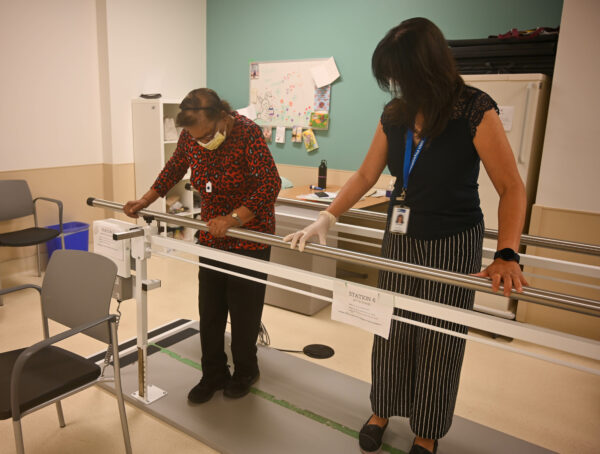 Chandra's daughter, Sunita, has also expressed her enthusiasm for the program. Sunita believes the falls prevention program has provided numerous benefits for both herself and her mother. "It is very convenient for family members to bring their loved ones to and from the program, and my mom has been doing so much better physically and emotionally since joining," says Sunita. "She has a lot more confidence!"
To those unsure if the program is a right fit for them, Chandra says, "I was scared at first too, but once I tried it, I felt inspired by everyone around me, and you will too!"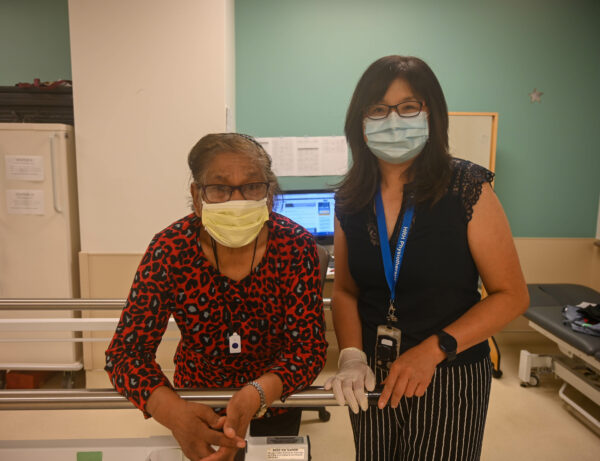 Nancy's Story
Nancy travels over 100km to and from Humber River Health to take part in the falls prevention program since being referred by her physician.
To Nancy, participating in the program has been a positive experience. Although the exercise classes can be difficult at times, she has seen a noticeable improvement in her balance and mobility.
"I feel better about myself," said Nancy. "I'm not as afraid. I can do exercises now that I was unable to do during my assessment, and I'm able to push myself a little more."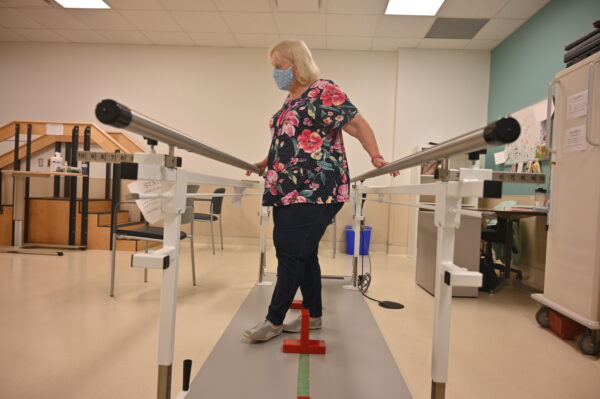 The education classes have provided Nancy with the tools necessary to be safe and successful throughout her everyday routines. They provided information regarding medication, nutrition, bone health, and more.
Nancy enjoyed that each class presented a new opportunity to challenge both your body and your mind, while improving your strength, balance, and confidence. She also appreciates the sense of community created by the program and how welcoming everyone is towards new members.
Nancy plans to continue keeping up with the at-home exercises and put all the tools and techniques she learned into action.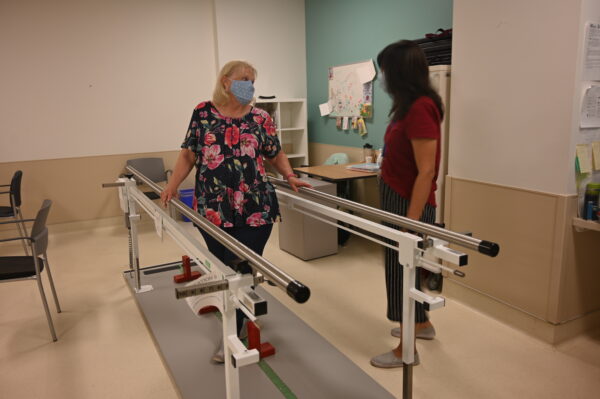 To those hesitant to try the program Nancy encourages them to "do it anyways! Trust me- it is worth driving over 100km to get here. Walk in with an open mind and eager to participate, and you will see positive results!"
To learn more about the falls prevention program, visit https://www.hrh.ca/2022/06/27/humbers-falls-prevention-program/.
---