Pharmacy Appreciation Month during COVID-19
Pharmacy Appreciation Month highlights the great work that pharmacy professionals do here at Humber River Hospital. This month, the Canadian Society of Hospital Pharmacists switched "awareness" to "appreciation" to better reflect pharmacy professional's incredible work during COVID-19 Pandemic. Pharmacists and Pharmacy Technicians have made significant contributions towards the ongoing fight against the pandemic while providing exceptional care to our patients and families while meeting the service delivery expectations of the HRH teams.
From the vaccine rollout in our COVax Clinic to lifesaving drugs for patients who are fighting the virus, pharmacy professionals play a vital role in our fight against the pandemic. The following highlights vaccine management, clinical pharmacy services, and inventory management during the pandemic. Below are quotes from our pharmacists and technicians as we focus on COVID care units- ICU and step down, Inventory and vaccine management aspects.
Subuddhi Kulkarni, Manager Pharmacy Services: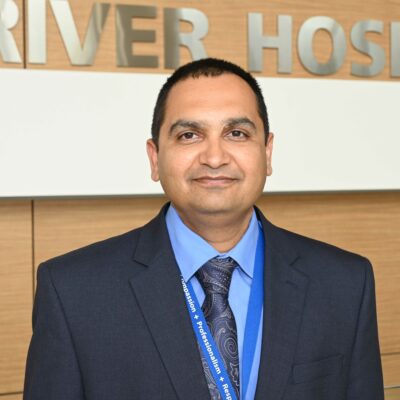 As a manager of pharmacy services at Humber River Hospital, it is my privilege to serve one of the most diverse mixes of professionals who want to do their best in providing exceptional care to patients and families. I believe our team continues to be one of the dependable pillars for organizing and coordinating medications and services here.
Pharmacy services have a relatively large portfolio. Some of the key service areas include inpatient and outpatient services, supporting community pharmacies and partners (Clozaril Support Program), Medical and Surgical programs, Mental Health, Emergency Dept. and many others. Our strengths include staff expertise in Oncology, Antimicrobial stewardship, Centralized IV Admixtures (CIVA) and the use of automation and technology in delivering care at the bedside as it relates to medication management. We are also dependable partners to Runnymede Health Center for managing drug distribution needs.
The task of providing value added services while fighting the pandemic continues to be a daunting one. Excellent collaboration, in-house expertise and trust within teams help us deliver on expectations. Our pharmacists play a vital role in providing clinical services, supporting best practices, and work within units with physicians, nurses, and allied health teams to advocate for patient care. On the other hand, our technicians work at their full scope and provide dependable high quality drug distribution, inventory management, and vaccine preparation services. Pharmacy Technicians are also engaged in providing services like best possible medication history /patient interviews to support HRH clinical services on a regular basis.
We have experienced rapid transformative changes in managing essential COVID medications, vaccines and are able to adopt the services during the pandemic. This include virtual meetings and virtual patient interviews. We were also able to support some of the outpatient programs at Church Renal Dialysis Unit during these times. I have noticed that we have flexed our strategy and operations demonstrating resilience and perseverance. Some of the examples for these are providing prefilled syringes for COVax clinics and for our mobile vaccination teams.
Vaccine Management: 
Sumit Goyal, Compounding Supervisor: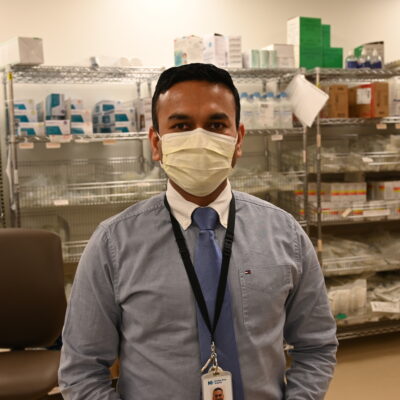 Our staff came together to plan how to execute the vaccine rollout. We started preparing the vaccine to supply 200-300 patients a day, and now our clinic accommodates upwards of 600-750 patients every day. We began with the Pfizer vaccine; when the staff members felt comfortable preparing the vaccine, they would champion training the other staff. The staff has been exceptional with keeping up with the demand for vaccines.
We are one of the select few institutions invested in providing high quality services and our team continues to provide the vaccine doses in a prefilled syringes using state of art cleanroom prepared by highly trained and experienced staff. These vaccines are used for in-patient and clinic vaccinations and meet the barcode/scanning requirements.
Clinical Pharmacy:
Intensive Care Unit (ICU):
Mojgan Khosravi Babadi, Pharmacist: The COVID-19 pandemic has possibly been one of the most challenging events in our lives, both professionally and personally. The difficulties surrounding COVID-19 pandemic include: a surge in ICU patients, having to wear personal protective equipment (PPE) while working, being anxious about what was to come, and the heartbreak of seeing our patients unable to have family and friends with them. We faced shortages of medications for COVID-19 related complications, which required daily monitoring of medication usage, helping with inventory requirement projections and medication shortage strategies in order to make sure our patients received safe and uninterrupted care.
Furthermore, the emerging COVID-19 therapy options required rapid evaluation on new therapies and drug products, working with Pharmacy and the Informatics team to develop order strings and order sets, updating smart infusion pump libraries as soon as possible, monitoring patients to prevent adverse events, and provide education and support to other healthcare providers.
Respiratory Unit: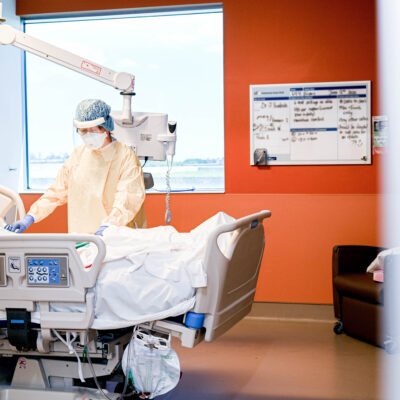 Wai Fong Lee, Pharmacist: A year into the pandemic, the Respiratory Unit has undergone major changes.  In order to have more critical care beds (CCU) available for COVID-19 patients, the respiratory unit has become a step-down unit that accepts stable patients requiring ventilators. Nurses have been trained to take care of these patients.  Recently, the unit has accepted the transfer of CCU patients who require Optiflow, high flow nasal oxygen therapy. The unit has become more dynamic during the last year.
Pharmacists have seen the way that the pandemic has transformed our day-to-day lives at the hospital.  We moved our bullet rounds into a bigger room where all allied health professionals can physically distance across the room.  Since visitor restrictions are in place, the majority of Best Possible Medication History (BPMH) and counselling are done on the phone with the family instead of in-person.  We are communicating with physicians and other allied health professionals through email and telephone.
Policies and procedures change quickly and drug information is constantly updated. We are learning how to manage COVID-19 patients better with the other conditions patients may have.  We are adapting to the new normal: PPE, social distancing, and virtual meetings. We are looking to each other for support. Our goal is to continue to provide the best possible care to our patients.
Inventory:
Sharold Maharaj, Pharmacy Technician: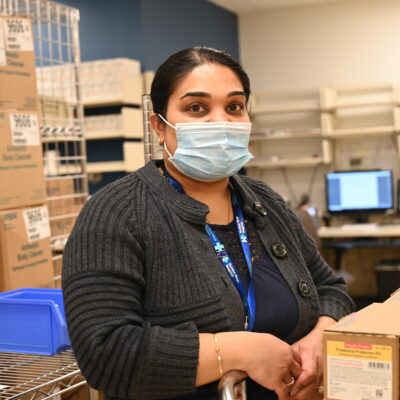 I felt appreciative when I was given the challenge to be part of the COVID-19 project in March 2020. It has definitely reminded me why living the core values of Humber River Hospital is important: Compassion, Professionalism and Respect. There were some days where there weren't enough hours in the day to finish the daily tasks and motivation has always been how I can provide better patient care, every day. I had to make sure that our organization has the access to essential medication list of COVID-19 medications and we are able to receive all allocated supplies while also serving as a Depot for other hospitals. This pandemic has reminded me why I became a Pharmacy Technician. It has been a very challenging time. With deep appreciation for my fellow colleagues, we continue to work together as a team on the COVID-19 inventory and provide the visibility to the available medications so that the clinicians can seamlessly handle drug shortages and associated changes, ultimately making a difference in patient care.
Albert Karas, Director, Pharmacy Services:
The Pharmacy Services Team has accomplished so much over this last year, all the while enduring this unprecedented and challenging time during the COVID-19 pandemic. Pharmacists, pharmacy technicians, pharmacy management and administrative staff have worked tirelessly around the clock to ensure continuous delivery of safe, quality medication management services and excellent patient-centered care throughout the pandemic.
Pharmacy services provided include the timely and safe drug distribution and medication management services for Humber River Hospital and Runnymede Healthcare Centre, patient education, best possible medication histories, medication reconciliation assessments, working with patients and interprofessional team members to optimize evidence-based pharmacotherapy, deprescribing/polypharmacy assessments, drug information, sourcing scarce drugs and managing drug shortages, compounding sterile and non-sterile medications. The delivery of additional services in novel ways, such as supporting vaccine administration by receiving and streamlining the large-scale preparation of vaccines for patients and ensuring every last drop of vaccine is used, also truly warrants the spotlight on the team.
While it's important to look ahead to the future with all of the things we plan to complete, it's also important to look back at all the things we have accomplished over the last year. For this reason, we plan to showcase and highlight many more specific accomplishments in the coming months as part of the Annual Pharmacy Services Review. We've gained a stronger appreciation for our entire pharmacy team, and this year, our annual Pharmacy Awareness Month, now more than ever, deserves a new name: Pharmacy "Appreciation" Month. We're excited to celebrate the tremendous work of our pharmacy professionals.
Thank You, Pharmacy Services Team; your incredible efforts deserve to be celebrated!
---