Orthopaedic Surgery
COVID-19 Update: If you are booked for surgery you will require a COVID-19 test before surgery. You will receive a call one week before surgery to organize the test which will take place at Humber River Health Pre-Screening Department Located on Level-1.
Please click here for our most updated visitor policy during COVID-19.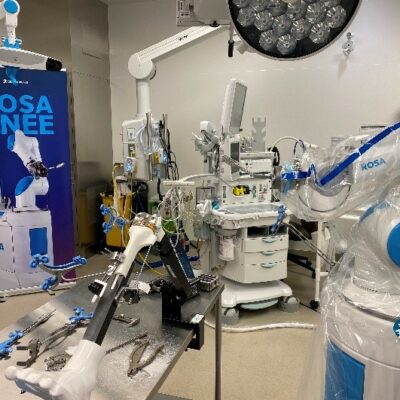 ROSA was introduced to Humber in October 2020. This exciting new technology allows surgeons to pre-plan your knee replacement more accurately. In addition, it helps to make personalized decisions intra-operatively and guide overall alignment of the knee replacement. This is a huge technological leap forward, and a Canadian "first"!
MyHumberHealth
My Humber Health is a secure portal where you can access your health record. You can access your health information, such as lab work and Ultrasounds, even after you leave Humber River Health.
Spotlight Stories
Direct Anterior Hip Replacement: Wendy's Story
Humber offers new SKiP Same Day Knee Replacement Program
COIN: An Innovative Approach to Pain Management at Humber River Health
Gary's Story: Total Ankle Replacement – Humber River Health Foundation
The Patient Journey: Anterior Hip Replacement – Humber River Health Foundation
High Tech: First Anterior Hip Replacement in the GTA!
Interview: Dr. Stephen Halman, Division Head, Orthopaedic Surgery
Announcing our 2019 Doctor of Philanthropy: Dr. Sebastian Rodriguez